"The German love for precision, Italian passion and the critical nature of the Dutch. You can still discern the national traits, although many design scenes in Europe are in close proximity and influence each other," observes artist Guy Keulemans from the Netherlands. "Likewise, there are Australian aesthetics: a jokiness, ruggedness and DIY ingenuity. But I don't consciously emphasize my descent. It's not there on purpose, it's just there."
Keulemans inherited the Dutch last name from his grand-father, but he was born and raised in Australia, where he completed a bachelor degree at the University of NSW College of Fine Arts. "I always intended to do a master's degree overseas. It was the quality of the students' work and the opportunity to learn from Dick van Hoff, and Gijs and Aldo Bakker that motivated me to go to the Design Academy in Eindhoven, the Netherlands.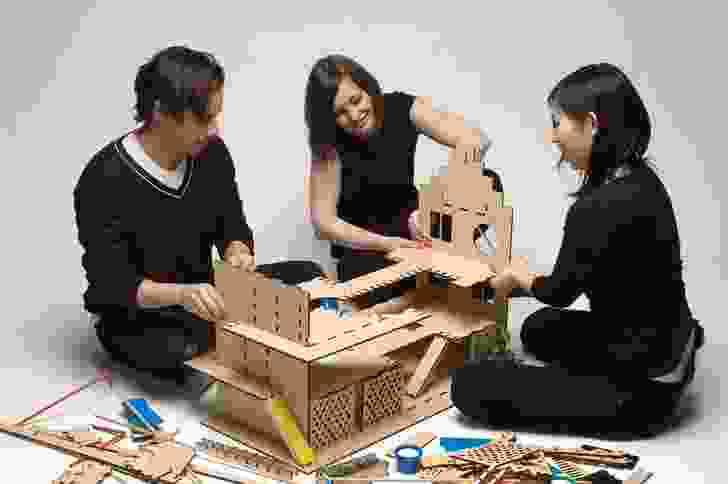 During Dutch Design Week in October 2009, Keulemans showed his LKBP furniture, the result of a research project titled Objects for Atheists. A chest of drawers with shelves hidden in the back, the piece looks and functions like a contemporary antique. "Technically, it's constructed to survive, with strong, traditional glueless joinery that can be dissembled and repaired easily," says Keulemans. "I sell it with the data files for the CNC-cut components, so pieces can be re-cut by machine if needed." In a method to make sure his work is preserved, Keulemans plans to release the data files on the internet so they are archived by servers around the world.
Inspired by Memphis Group founder Ettore Sottsass, Keulemans likes the few objects in a room to be "so intense they vibrate." He describes his furniture as being too demanding to simply squeeze in next to an Ikea bookshelf. "They're more of a domestic sculpture – a physical realization of an idea or aesthetic. This realization is not fixed, it should differ from person to person and across time. Good furniture should last decades, growing and maturing in its story and in its contextual relevance," says Keulemans. "Unlike the objects themselves, the stories mutate. This mutation can be used as an excellent way to maintain interest."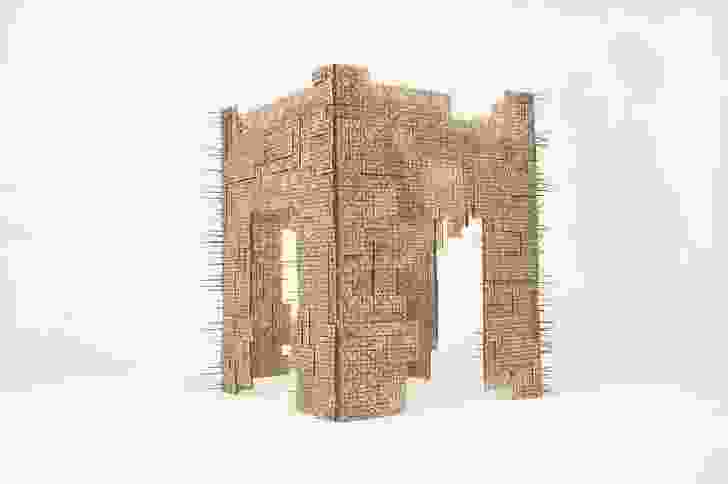 This is demonstrated in Keulemans' Smash-Repair project, created in collaboration with Martijn Dijkhuizen. A table built from tiles with a repetitive pattern of holes is held together with too many nuts and bolts. This structure is smashed nine times, and in each cycle of repair, tiles are added, increasing structural strength where it is needed. After the last cycle, any material that has not broken is removed, leaving an object that is "100 percent repaired."
"Being a repetitious project for the hand, it left my mind free to embellish people's interpretations and write them into my blog," says Keulemans. He began the blog to post project pictures quickly, but it continued as a research tool after he decided that a portfolio website is too static for his mutating work. "Some of the comments I now disregard as unimportant, others I continue to build upon. The narrative process is like the physical process – the stories are smashed, then repaired, mutating and gaining strength in the process."
Source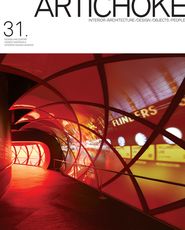 Issue
Artichoke, June 2010
Related topics