In many respects International House Sydney (IHS) by Tzannes is a sensible commercial building. It hugs its site boundaries and makes deliberate and positive public domain moves, with a two-storey street colonnade along Sussex Street that acts as a threshold to Barangaroo South and a two-storey covered plaza that marks a destination for the pedestrianized Mercantile Walk. The floor plate is clean and clear, save for a central row of columns and a core tucked to the western side.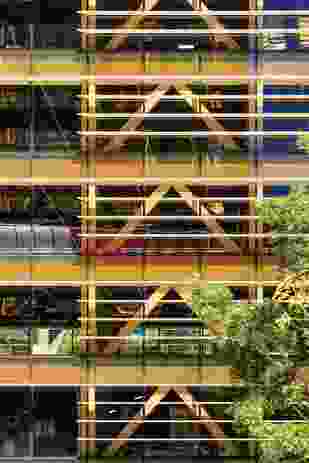 The building had to be sensible; otherwise, it would not have been built. As it is Australia's first engineered timber office building, there was always a risk that the market would baulk at the idea: what about fire, what about termites, what's wrong with good old concrete?
This is not the first cross-laminated timber (CLT) building developed and built by Lendlease. In 2013 it completed Forte Living, a ten-storey apartment building in Melbourne that at the time was the first CLT building in Australia and the world's tallest. Since then, CLT buildings have been gaining a lot of traction around the world and it was a logical move for Lendlease to test the commercial market.
The Barangaroo development on the western edge of Sydney's CBD, Australia's largest urban renewal project, has been a contested site since the international design competition in 2005, with floor space ratios and building heights continually adjusted to suit the developers' ambitions. The IHS site is bookended by two of the main pedestrian access points to Barangaroo South: Napoleon Bridge to the north, which becomes Shipwright Walk, and Exchange Place to the south, which links up with the Sussex Street Bridge and the recently completed Wynyard Walk, where there is a constant flow of people to and from Wynyard Station.
Barangaroo South itself is dominated by the three buildings that make up International Towers Sydney by Rogers Stirk Harbour and Partners. These massive towers sit on street-aligned podiums three storeys high that tighten the feeling of scale at street level. If the intention was intimacy, the effect has been to create some of the most efficient wind tunnels in Sydney. Much of Barangaroo South is now finished and occupied and there is already a very active life beginning to emerge at street level, despite the gusty experience for the pedestrian. In general it feels like too much has been packed into this part of the city. International House, at a modest seven storeys and sitting on the eastern edge, is bespoke and almost dollhouse-like in comparison.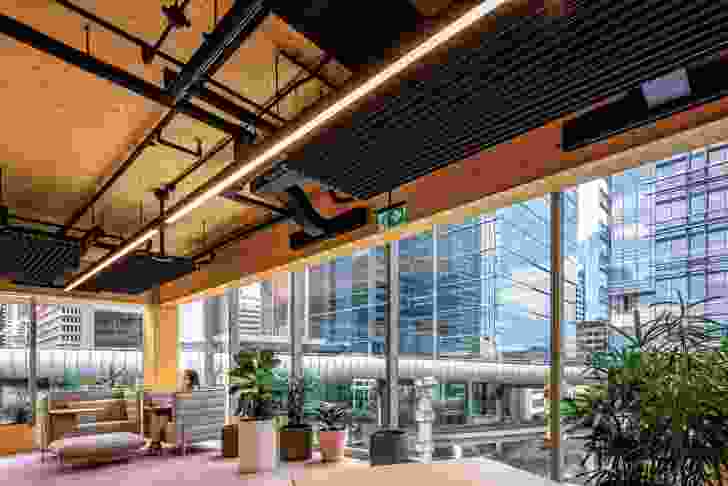 IHS could easily have been a concrete building and started out as one when Tzannes was first engaged. Four months were spent exploring timber options before returning to concrete, then later back to timber. While the architects were pushing for a full timber building, it needed a champion within Lendlease to become a reality, which founding director Alec Tzannes explains was found with senior project manager Jeremy Tompson. A fully timber-framed mid-rise commercial building was a new idea for the market – traditionally, commercial means concrete, glass, steel and aluminium.
Technical advances and research in the building industry tend to be very sluggish in making their way to market as contractors struggle to quantify and price the risks. That Lendlease took on the commercial risks associated with this building should be applauded and is in the spirit of its founder Dick Dusseldorp, who thrived on innovation and risk when building Lend Lease Corporation. Of course the company did its research, both in how to build it and in how to market it, and this appears to have paid off. The building is fully leased and Lendlease has engaged Tzannes to do another timber building in Barangaroo.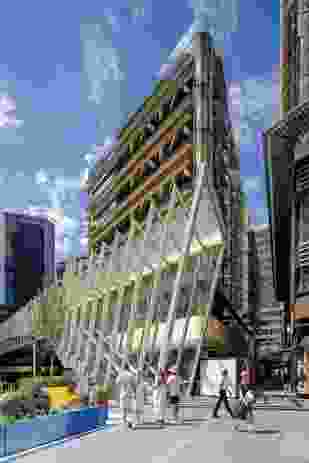 The timber is real and structural, which gives it integrity, and the priority of the idea and clarity of the expression are everywhere to be seen. Many timber-framed buildings hide their skeletons within cladding but IHS loudly proclaims its timber bones. The architects cite Shigeru Ban's Tamedia building in Zurich as a precedent, though this building is much more understated than the expressive and playful Ban building. Alec Tzannes acknowledges that structural timber buildings have their limitations and sees the technology as more suited to low-to-mid-rise construction. Many of the so-called "plyscrapers" around the world, in excess of ten storeys, are actually hybrid structures that incorporate concrete cores. The ten-storey 25 King development in Brisbane, also by Lendlease but with Bates Smart, will officially become Australia's tallest timber office building when completed in 2018.
CLT technology was developed in Switzerland in the 1970s. Sometimes described as "jumbo plywood," it is the logical extension of plywood into structure. Layers of timber are glued together, with the grain alternating at ninety-degree angles for each layer. Cross-laminating the layers of wood improves the structural properties of wood by distributing its along-the-grain strength in both directions.
In the IHS building CLT panels are used for floors and walls, along with a one-hundred-millimetre access floor. Columns, beams and bracing are glulam set in a six-by-nine-metre grid. There is no ceiling, with the black-painted chilled beams and other services fully exposed and carefully set out to avoid the visual chaos that is usually hidden away.
The structural timber performs very much like a series of precast concrete elements, though much lighter, and is assembled Meccano-like with bolts, plates and brackets. All the beams, columns and panels arrived pre-cut, including penetrations for services, flatpacked into containers like a giant piece of IKEA furniture. On site the timber structure is much more forgiving than traditional concrete and can easily be cut and drilled if necessary, without the fear of hitting reinforcement.
The internal structural timber is European spruce from Austria. Local pine could have been used; however, there were no local fabricators of CLT in Australia (although New Zealand company XLam is building a CLT plant in Albury-Wodonga, which will open in 2018).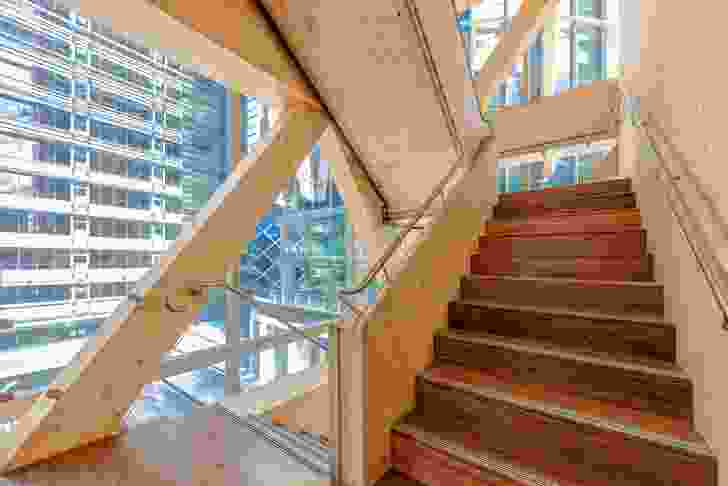 Through the use of sprinklers and fire engineering, the fire rating for the structure was reduced from 120 minutes to ninety minutes. The timber burns at a predictable, tested rate and insulates itself against the fire as the outside face chars. For each exposed face, approximately sixty millimetres in thickness acts as a fire protection layer for the structural member. The building has sound environmental credentials, with a six-star Green Star rating, 352 photovoltaic roof panels, 2,700 tonnes of carbon sequestered in the timber structure and passive chilled beams that provide temperature control and make use of the precinct-wide heat exchange system with the harbour. The only negative is the material miles associated with transporting the structural timbers from Europe.
Externally, a white glazed brick base, rounded corners and strong horizontal lines give the building a certain retro Streamline Moderne expression reminiscent of late Art Deco architecture from the 1930s. The two-storey Sussex Street colonnade is supported by angled recycled ironbark props that are in turn supported by muscular and sculptural in situ concrete bases. This allows the structural grid of the building to adjust to the different structural grid of the basement carpark, which was already in place before the building was constructed.
Inside, you are immediately struck by the scent of the timber, which is much more pleasant than the dusty smell of new concrete or the chemical smell of paint and glue. It is not an overpowering smell, like being in a cedar sauna; rather, there is an aromatic background that is both reassuring and calming. The fire stairs are enclosed with fire-rated glass so that they appear visually open and inviting. They are intended to be used for general movement between floors instead of people resorting to the lifts. The lobbies are clad in recycled turpentine, harvested from wharf piles unearthed during excavations on site.
As with all prefabricated buildings, there is additional time required in design, coordination, fabrication and transportation of the offsite components, but this is then recouped with less time spent on site. It makes for a very different kind of site, where most of the work is more like a large carpentry workshop. Work is not held up while concrete cures and is stripped.
It is rare in a commercial building to see such an elegantly and purely realized building where the legibility of structure, material and services is the aesthetic. It might sound trite, but the feeling of wellbeing and nurturing within this building is palpable. This is an architecture of substance.
Credits
Architect

Tzannes
Chippendale, Sydney, NSW, Australia
Project Team

Jonathan Evans, Alec Tzannes (design directors), Dijana Tasevska (project architect), Tony Lam (BIM and documentation lead), Chi Melhem, Lily Tandeani, Amanda Roberts, Dustin Cashmore, Wenxi Ren, Carl Holder, Luke Novotny, Lyndsey Fitz-Gerald, Linda Kenne
Consultants

Acoustic consultant Wilkinson Murray
ESD consultant Lend Lease
Electrical and mechanical consultant AECOM
Facade Surface Design
Fire engineer Defire
Hydraulic and fire services consultant Warren Smith & Partners
Interior fitout Hassell.
Lighting consultant AECOM
Structural engineer (concrete) Arcadis
Structural engineer (timber) Lendlease Design Make

Site Details

Location Sydney, NSW, Australia
Site type Urban

Project Details

Status Built
Completion date 2017
Category Commercial

Source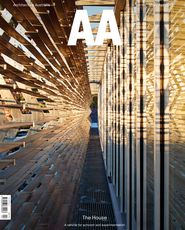 Project
Published online: 26 Jun 2018
Words: Andrew Nimmo
Images: Ben Guthrie
Issue
Architecture Australia, March 2018