"Oh it is magic" was one tenant's description of residing in Living Places, a new public housing development in suburban Dandenong, thirty kilometres south-east of Melbourne. It was an affirming message to receive as I was welcomed into one of the residences by "Mum" and her family. Crossing the threshold as an outsider to become temporarily immersed within the tenants' world prompted me to think, "How would I feel about living here?"
This project attempts to dissolve boundaries – some of them physical, others social. This was evident from the outset as I navigated towards Mum's residence with no clear driveway, path or mailbox to guide me. Dissolving boundaries is challenging and it can result in disorientation and unease, because boundaries keep things in a way that we are used to, but can also give a sense of freedom and possibility.
Living Places is the result of an architectural design competition of the same name that explored various issues relevant to housing – affordability, sustainability, flexibility – and aimed to push these very boundaries. It started with six typical suburban blocks that were combined to create one site so that the original six dwellings were increased to fifteen.
The competition was a joint initiative of the Office of Housing in the Department of Human Services and the Office of the Victorian Government Architect, and followed the success of the K2 apartments by DesignInc, an earlier competition by the Office of Housing completed in 2007. (I was involved during the development of the competition brief and judging phase when I worked at the Office of the Victorian Government Architect.) From a state government perspective Living Places was intended to be a medium-density demonstration project that showcased good design and developed an approach that could be repeated on similar sites. The initiative was a response to three pressing needs: greater density in strategic parts of the city, housing affordability and accommodation to suit changing demographics. Smaller, accessible units were needed for people who might otherwise have to live in care, and larger units were required for the extended families who make up a portion of the population in Dandenong. It was recognized that there would be less private, outdoor space than had been previously available on the four blocks, and this was partly replaced with community or shared space.
The design approach in Bent Architecture's winning entry was to create a potentially continuous urban framework that responded to sun, circulation and community space. This manifested in the plan as bands running east-west through the site, which demarcated alternating strips of landscape and built form in response to solar orientation. Further banding at the scale of each individual unit identified private gardens, habitable space and service space. In the opposite direction, car access bands crossed the site. With communal space as the third layer, an overlay of these three systems created a kind of patchwork groundscape. With such an abstract starting point at the competition stage, it was heartening to see that the built result used interfaces to create an ensemble of tightly knit units and pedestrian spaces.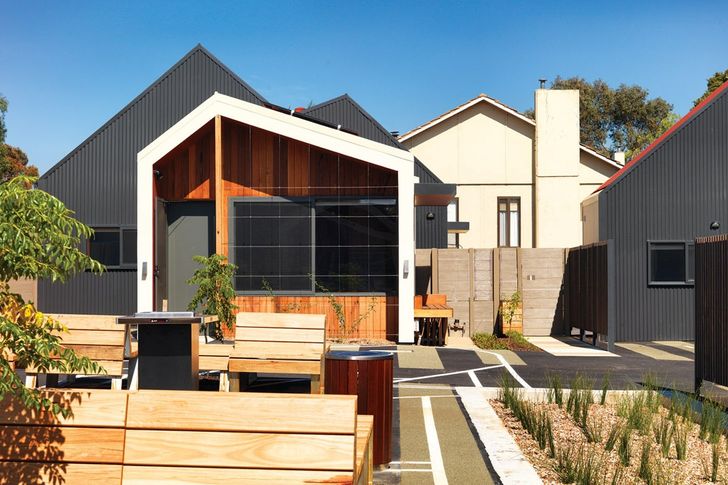 The units themselves are modest and simple. Their colour and roof pitches reference the surrounding houses, but the units stand out as sharper and more purposeful looking. Internally, they are comfortable, open and light with high, raked ceilings and some timber finishes. The architects have produced a "user guide" for tenants to explain the more unusual design ideas such as the use of reverse brick veneer, reduced areas of plasterboard and on-site grey water treatment.
The challenges are really in the spaces outside. There are no fences dividing the units. Tenants must cooperate when using common facilities like the shared barbecue and, as there is no barrier to entering the site, they need to guard their community space. This is much like how a small neighbourhood in Melbourne's Brunswick might act as custodians for their local park; in this case, the park is the "front yard" of the collective units.
With the disappearance of the traditional front garden, side and backyard, and with the merger of driveway and entry path, some of the usual domestic cues are missing. This is a place where meeting the neighbours becomes less structured – a waiting visitor can sit in the sunny central garden, something not done in a traditional front yard. Projects like this raise questions about how we are to shape our cities as they grow: How much private garden do we want in the suburbs? How close is too close when it comes to walking past someone's front door? Is there enough scope for residents to control levels of privacy and surveillance?
A series of devices, some of which can be modified by the tenants, help to give identity and layer interaction. But the blinds, small private gardens, movable sections of fence and screen planting provide only a thin buffer and this aspect should be developed further if the model is to be applied to future projects. Walking around the units I felt both a slight unease, as if I were trespassing, and a sense of welcome and fun in exploring the generously designed landscape and seating. Overwhelmingly, I felt excited about the challenges tackled and what has been achieved.
The framework used for Living Places represents, at a domestic scale, a range of boundaries that are being renegotiated around public and private space. Just to show that challenges come in all sizes, the tenants mentioned how not long after the development was completed a group of kids on bikes and skateboards entered the site. Mum, who was strategically placed in her living room to look over the front, shooed them away: "Oh," she said, "do you live in here?" "No, down the street" they replied. Mum retorted, "This is private property," only to receive the response "No it's not, the government owns it." The idea of custodianship is not well developed in our cities, as we think in more black-and-white terms of who owns what. Beyond the suburban scale this has particular implications for our public urban and natural environments, where we need to cultivate custodians to guard and look after these spaces. Local government is an important participant in redefining management structures to make this easier. For instance, in this project, the installation of the barbecue became a battle because it was unclear who would be looking after its maintenance.
The proposal by Bent takes the suburban block and "mashes" these spaces. How would I feel about living here? I think it would be a challenge. What I have observed is that people are up for this challenge. This project might not be a revolution in architectural design but it shows how a tired suburb and the typology of social housing can be revived and transformed through challenging accepted standards. This project is a very positive step in a larger effort to redefine the suburb, pointing to how a more complex view of ownership and neighbourly interaction might look.
Credits
Architect

Bent Architecture
Melbourne, Vic, Australia
Project Team

Paul Porjazoski, Merran Porjazoski, Louisa Macleod, Fiona Lew, Andre Ullal
Consultants

ESD Third Skin Sustainability, Greensphere Consulting
Electrical & hydraulic engineer SPA Consulting Engineers
Landscape architects Site Office
Structural and civil engineer Clive Steele Partners

Site Details

Location Dandenong South, Melbourne, Vic, Australia
Site type Suburban

Project Details

Status Built
Category Residential

Source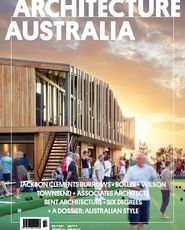 Issue
Architecture Australia, July 2012
Related topics