My Catwalk is an online boutique that's been selling designer clothing for women since 2002. In November 2011, it made the transition from the virtual into the real world when it opened four stores across Australia. The stores, by DesignOffice, are stunning examples of thoughtful retail design that invite, delight and surprise shoppers. "Our intention was to complement the online business with a tactility and personality that is hard to achieve through a virtual store," says Mark Simpson, who led the project with joint creative director Damien Mulvihill.
Responding to the client's desire to create a series of store environments that have a personal, homely and curated atmosphere, DesignOffice considered the store as a journey from the customers' point of view: from entry through apparel collections and accessories, through to the fitting rooms and lounge area, and then on to the moment of purchase. "By thinking about the nature of these experiences, both sequentially and individually, we sought to create a complete experience," says Simpson. "It was conceived as a series of individual moments and vignettes as opposed to one architectural gesture. Many of the details of the project came about from this process."
The My Catwalk store in Sydney's Double Bay beautifully illustrates the DesignOffice strategy and has a unique, cosy feel that is far removed from the retail behemoths and super-malls. The long rectangular space, which has full-length windows at both ends, serves as a base for an architectural palette of light timber, concrete, glass and granite. A second layer of tactile, carefully crafted and selected elements then delivers individuality, warmth and personality.
Large-scale joinery pieces take on a furniture feel and provide an opportunity to creatively display clothing collections. A curtain-wall adds a dramatic yet softening element to the space, and display cases in fine materials are as handsome as the objects within.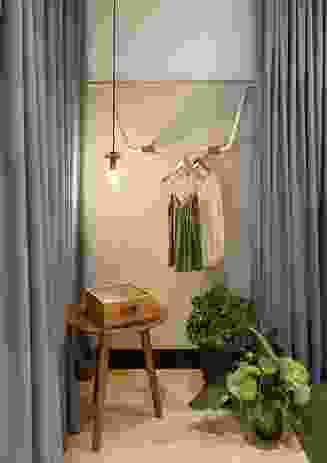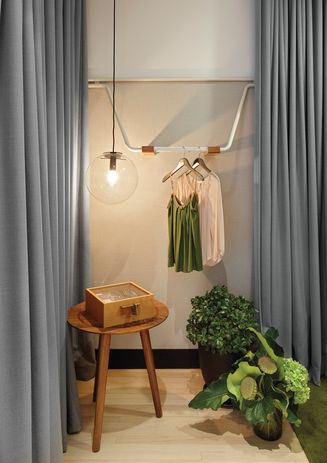 "Colour and texture are at the crux of the approach to the stores," says Simpson. "We wanted to create a flexible suite of furniture-based elements that were rich in materiality and crafted detail."
To add depth and distinctive points of interest, DesignOffice sought old, new, recycled and custom-made pieces. As a result, each store brims with handcrafted tables, solid timber jewellery boxes and bespoke rugs, which mix naturally with an array of chairs and objects discovered in Melbourne, Sydney and Perth. "Some of the furniture was sourced from vintage warehouses and restored specifically," tells Simpson. "Others were found at antique dealers, flea markets and online."
A flexible, high-performance lighting system was created with Light Project to fulfil the architectural and functional needs of the stores, while a more personal layer of lighting in the form of pendants, table lamps and mirror-mounted vanity lights bring the space to life. If the real-world retail experience was always as inviting and well-considered as these stores by DesignOffice, perhaps we'd never shop online again.
Products and materials
Walls and ceilings

Paint is Dulux Wash and Wear 101 Advanced Low Sheen.
Flooring

Precast concrete, matte finish. Carpet from Supertuft. Rugs custom designed by DesignOffice, manufactured by Korda Design.
Furniture

Vitra Organic chair from Space Furniture. Objekto chair from Hub Furniture. Maruni Hiroshima chair and footstool and Maruni Lightwood chair from Buka Projects. Mater stool from Corporate Culture. Custom stools from Xilo. ClassiCon Selene chair and ClassiCon Saturn stand from Anibou. Vintage daybed supplied and restored by Ken Neale, upholstery by Kvadrat. Vintage glass cabinet from Geoffrey Hatty.
Lighting

Foscarini Chouchin green and orange lights from Space.
Fittings

Vitsoe Universal Shelving System supplied by Mud Australia. Powdercoat hanging rails from Interpon.
Accessories

Vases are vintage pieces. Jewellery boxes custom designed by DesignOffice, made by Xilo.
Credits
Design practice

DesignOffice
Melbourne, Vic, Australia
Project Team

Mark Simpson, Damien Mulvihill, Karina Harvey, Peter King
Consultants

Builder Bermagui Constructions
Furniture Xilo
Joinery Liquid Lines, Xilo
Landscaping Eden on Earth
Lighting Light Project
Project manager Jim McGreevy

Site details

Location 13 Knox Street, Double Bay, Sydney, NSW, Australia
Category Interiors
Type Retail

Project Details

Status Built
Design, documentation 3 months
Construction 2 months

Client

Client My Catwalk
Website mycatwalk.com.au

Source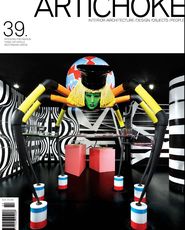 Issue
Artichoke, June 2012
Related topics