Strathgordon: Hydro Town
Jack Birrell Architects and Glenn Smith Associates are collaborating in the township redevelopment of Strathgordon, in the remote South-West Tasmanian Wilderness World Heritage Area. Strathgordon is a hydro power station and is the largest supplier of "clean green" electricity in Australia. It rains more than 300 days a year in this region. GSA are realising the stage one development of 15 houses, a sports complex and upgrade of the existing chalet. JBA are designing stage two: an ESD service centre, township hub and interpretation gallery.
Sydney: Tunnel of Love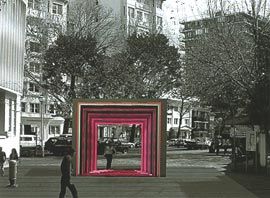 McGregor Westlake have been commissioned by South Sydney Council and Conybeare Morrison and Partners to develop "art" concepts to be integrated into the developed design of the Springfield Precinct.
One such project, "The Portal" is designed as a threshold between the tough, visually dynamic commercial strip of Darlinghurst Road and the classical, residential neighbourhood of Springfield Avenue. Mediating between these two domains, it presents a proscenium to the "theatrical space" of Springfield Plaza and a mute silhouette to Springfield Avenue. Five identical steel sections wrap and frame a large transparent public and collective space. Each section cradles a strip of toughened glass protecting a continuous strip panel of red and white LED light panels.
This simple framework allows for complex lighting effects. The Portal aspires to multiple readings and associations. It is a doorway, a threshold, a time portal, a "Tunnel of Love".
Love, a theme already ambiguously commodified and repackaged in Kings Cross, will be explored with poetry and prose. The Portal has been designed to create a rich spatial, cinematic, and emotional experience for those who walk through it
Sydney: Federation Garden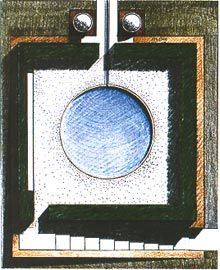 Room 4.1.3 (Vladimir Sitta and Richard Weller) have won the competition for a Federation Garden in the grounds of Sydney's Government House.
This called for designs to express Australia's socio-political history and to reorganise a neglected area of the grounds. The winning scheme is called Epicheirotonia, meaning referendum. It is designed to recall western political traditions, and to remind us that our nation was formed mainly by the vote, not violence. It is also mindful of the fact that Indigenous Australians were ostracised from the political processes of much of the first 100 years of Federation. The scheme threads a new picturesque circuit through the site. This is is interrupted by a large granite slab, tilted up out of the ground with a fine rill of water flowing from underneath.
A brass plaque suggest visitors follow the water to a secret garden. This is a simple "green room", made from high, thick hedges, set deep in the Government House grounds. At the entrance, visitors can select a pebble from one of two urns, once inside, they throw the pebble into a large pool of water. This action recalls the ancient Greek method of voting. The garden also houses a long stone seat, made from the highest quality stone from each state and territory of Australia joined according to the shapes by which the states and territories are joined on a map of Australia. Visitors leave the garden by a small gap in the hedges and continue on their picturesque circuit ■
Hobart: Bowsers to Blouses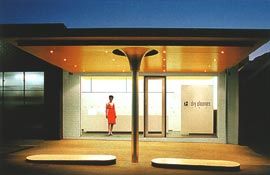 With an enlightened client and a strict budget, 1+2 Architecture have transformed a greasecoated service station into a dry cleaners – or, as they call it, "a house of cleanliness".
The project addresses the tricky business of adapting and reusing a purpose-built commercial building to a new, equally specific function. The robust style of the mid-twentieth century garage generates a strong street presence, with a glowing ("whiter than white") jewel box-like reception inserted as the focus of the repainted industrial facade. The architects comment, "it was important to clearly separate the whites from the colours".
They describe the project as "simple, functional and clean, giving an almost-new lemon freshness to this building with a dirty past"