The New South Wales government has officially opened the upgraded Penrith Public School in Sydney's western suburbs.
Designed by PTW Architects in association with McIntosh and Phelps, the school's new two-storey building includes 12 permenant teaching spaces. The architects have also designed new outdoor learning spaces and upgraded existing staff and administration facilities.
Surrounded by eucalypts and greenery, the new building is distinctive for its pops of vibrant colour, both inside and out.
In a statement, the architects detailed how consultation with key community stakeholder groups, students and teachers helped shape the design.
This consultation established "the importance of configuring the building elements to create a diversity of spaces and links so learning could occur informally and formally, externally and internally," the architects write.
"Bold architectural forms and street presence" were also identified as important for the project, to give identity to the school in its CBD location.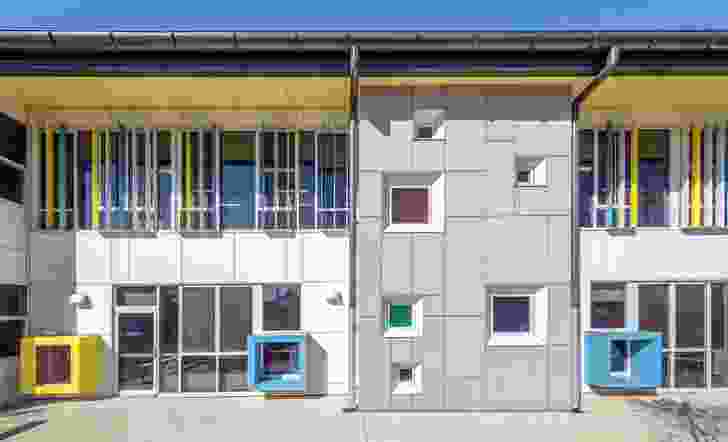 Speaking to local paper The Western Weekender, the school's principal Chantal Beltran said, "I am privileged to have been part of the planning and design process and heartened to see the community, student and teachers' voices have been captured in regards to providing our school community with state-of-the-art facilities that align with innovative and future focused teaching practices"
The minister for Western Sydney and member for Penrith Stuart Ayres said the new facilities would give students the best possible learning environment.
"Penrith Public School is now the perfect example of Penrith heritage and new Penrith coming together," he said.