REVIEW LEON VAN SCHAIK PHOTOGRAPHY JOHN GOLLINGS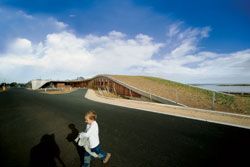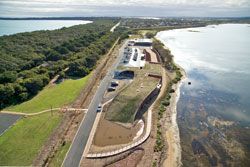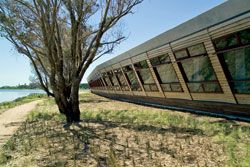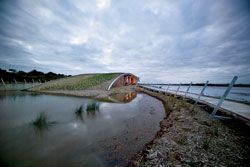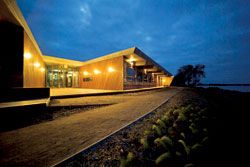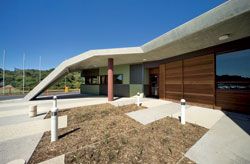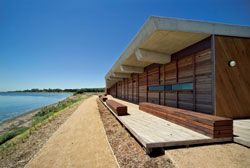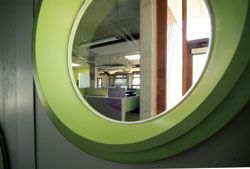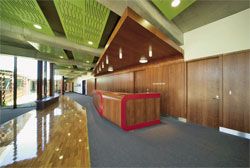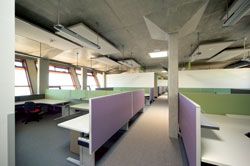 IS GREEN BUILDING coming of age? Richard Sebo of Green Building Australia has been puzzling over the seeming reluctance of practitioners to adopt a green building approach to design. Most people who embark on this enquiry assume that the problem is a lack of knowledge and a deficient education. However, Sebo has begun to realize that architects are equipped to synthesize knowledge from any source. What is needed – as Chris Ryan, founding director of the Centre for Design at RMIT, has argued for many years ? is either government regulation or firm client intention.
Melbourne City Council's approach has been to import expertise. It is spending, according to industry observers, between twenty and fifty per cent over the odds to achieve a 6-star-rated office building in central Melbourne (4-star is national best practice, 5-star is international best practice and 6-star breaks new ground). Nearby, the BHP Billiton headquarters at QV achieves a better-than-4-star rating within current commercial cost structures. Lyons, who designed BHP, wonder whether the twenty per cent plus impost of the MCC design will have a favourable impact on general practice.
Lyons' Queenscliff Centre, the peak marine environment research facility in Victoria, was designed seven years ago and finally completed in November after years in VCAT, the EPA and other political process awaiting planning, environmental impact and budget approval. It has achieved a 6-star rating even without the points that would have accrued from having a green expert on board from day one. Lyons estimate that the upfront capital contribution to achieve this rating has been less than ten per cent, and they point out – as Sebo would now expect – that given the client requirement, meeting it was well within the skills of normal practice.
For those who are pessimistic about our ability to address environmental issues this is, finally, a moment of encouragement. The site is on the neck between the mainland and Queenscliff, a corridor of twin dunes between the World-Heritage-listed Swan Bay Tidal Wetland and Port Phillip Bay that carries the road and rail connections to the historic resort town. For many years it had been a council depot, contaminated with oil from mowers and other vehicles, laced with asbestos cement and a tip collection area. Local campaigners for the environment fought for the site to be cleaned up and returned to a pristine state. In counterpoint, the State Government wanted a high-profile demonstration project that revealed the benefits of research and responsive management of environmental resources. Architecture and environmental design have brought these two conflicting aims into an accepted compromise – at least, that is one way of seeing the outcome. The other is to see that this building and its systems have inverted the future-eating tendencies of our culture and have enabled us to begin building a sustainable future, which a wilderness strategy would only have staved off or transplanted to another site.
The site has been compartmentalized and capped. The leachate and storm water that are not collected into the huge on-ground water harvesting tank are treated in a wetland system before feeding into Swan Bay – a process monitored before, during and after construction by EPA directive. On a small scale, but here in our own backyard, this repeats the large-scale success of Stockley Park near Heathrow in London, in which a centuries-old rubbish tip has been converted into the largest new parkland in Europe. Stockley Park has also been the site for a number of buildings by notable architects, including Fosters, but none is as radical and responsible as Lyons' Queenscliff Centre.
The building is a laminar extrusion along the shoreline from which it takes its plan profile, set back to accommodate a public track. Rising out of its own wetland system, a turf roof flows up and over the Marine Discovery Centre, an education facility, along over the offices. Open decks segment this strip, affording views from the Marine Discovery Centre entrance to the dunes from the north, and from the entrance to the offices to the bay from the south. Further to the west and adjacent to the railway – which now has a stop here – the paving rises up from the ground and flows into a turf roof that covers the laboratory wing. This strip is punctuated by a large rainwater collection tank, after which it opens into a yard for outdoor experimental tanks and gear. The library links these two strips and the offices are linked back to the laboratories further along, creating two long courtyards planted with banksias in emulation of the dunes.
The concrete roof structure, a slab supported on mushroom columns, carries 300 mm of topsoil. There is a chance that this turf roof will – as have such roofs elsewhere – slowly assimilate the local dune flora. It is possible that the form is derived from the old tip, where a large earth ramp, still in existence further along the site, formerly allowed vehicles to rise up and deposit their loads onto a clearing ground below.
The Marine Discovery Centre, accessed from the shoreline pathway in a route that introduces visitors to the bay, the onshore wetland system and the idea of the turf-roofed building, is planned for a looping tour that links a themed display, tanks where marine life can be seen up close and labs where simple experiments can be conducted.
The offices are reached from an entry court to the south with parking for visitors and accessed through a reception area that gives an intensified view of the bay. They are eighty per cent open plan, naturally ventilated through shutters on both sides and utilize the vertical temperature striation possible with greater-than-usual floor-to-ceiling heights. Lyons have designed for a wider-than-usual temperature range of 19 to 25 degrees, working to a well-informed buy-in by the environmental scientists who occupy these handsome spaces. Alternative comfort is afforded by the extra height and the closeness to views over Swan Bay and the internal courtyards. Office furniture has been recycled after refurbishment in highly rated materials. This combination of off-shutter concrete in a simple structural schema and soft furnishings with a few quirky touches, like the lime-green-rimmed portholes to the staff room and views on all sides, makes this a lively but easeful spatial environment.
The state-of-the-art laboratories are airconditioned with a 5-star-rated system and serviced by large in-ground ducts, which carry the sea water sourced from 100 metres out into Port Phillip Bay by pipe under the dunes to the south. They too have views – directly to the dunes and the courtyards.
The north faces of the building where there is no overhang are canted to the summer insolation angle, so they are in shade all summer. Timber in the building is either 100 per cent Grade A recycled or radially sawn and untrimmed plantation timber framed up in cladding panels. The same profile flows through into the profiled sheet metal workshops that terminate the current extent of the project.
The prevalence of linear, laminar flow plan forms in many schemes concerned with reversing our future-eating propensities (exemplified by the younger European research-led practices) is curious. In part this may be a pathetic imitation of industrial processors, as if the huge conveyor belts of the iron ore mines, for example, were set in reverse in hopes of returning material to its original condition. Or as if the conveyors of that Modern architecture icon, the Van Nelle Chocolate factory, were somehow returning value to the Coco plantations instead of delivering raw materials to be processed. If so, it is disappointing and dangerous. The preference for a linear "look" may divert our better intentions from finding their appropriate form to favouring expressive style – as did the factory aesthetic in the Modern movement. It could be even more sinister. Colin Rowe argued that there was a natural affinity between extrusion in plan form and totalitarianism. It is, he argued, supremely dangerous to believe you have found the (singular) solution, and that all that is needed is for it to be generally applied.
At Queenscliff the extruded form is quite clearly driven by the site, the orientation and the requirements of cross ventilation and day lighting. It also suits the functions and their relationships. It is not, thankfully, a directly replicable or extendable system. Every site needs its own interpretation, its own design. So, while Arup could draw on the knowledge created at Stockley Park to be sure that what they were proposing would work, they could not simply import the system. Sebo is right. It is not the content that matters, but the intention that leads to interactions which create the necessary knowledge. Given that intention, architects, engineers, environmental scientists and environmental groups – and the tribunals as well – can deliver by becoming, for a time, a community of practice specific to a given task. And what this community delivers – as the Queenscliff Centre demonstrates – is the thinking we need for a future that is functionally and aesthetically nourishing.
LEON VAN SCHAIK IS INNOVATION PROFESSOR OF ARCHITECTURE AT RMIT.
Project credits
Architect: Lyons— project team Carey Lyon, Corbett Lyon, Cameron Lyon, Ian Davidson, Mandy Moffat, Chris Downing, Chris Gonzal, Simon Drysdale. Client group: Department of Primary Industries, State Government of Victoria (formerly Department of Natural Resources & Environment). Project manager: Atkinsons. Structural, civil, building services and environmental design consultant: Arup. Landscape architect: Taylor Cullity Lethlean. Builder: Kane Constructions