NBRS+Partners were announced joint winner of the Living Cities Design Competition in March 2014. Launched in 2013 by Metropolis magazine, the competition calls for architects around the world to submit housing solutions for New York City, based on the premise that the city will gain a million more residents by 2040.
The brief is for a design scheme that responds to New York's changing demographics with multi-use strategies, multi-generational design and sustainability. As the competiiton is co-presented by the Steel Institute of New York and Ornamental Metal Institute of New York, proposals must incorporate an innovative structural steel system.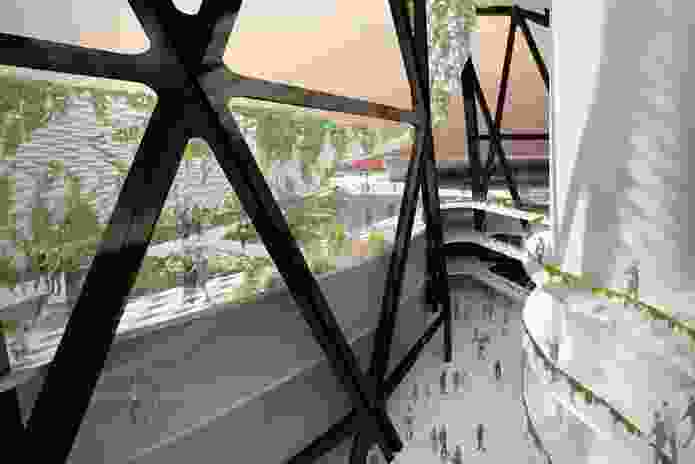 NBRS's winning proposal VIVO on High Line is a twisting skyscraper that straddles the much-publicized High Line – disused freight railway line repurposed as an elevated park running between the Meatpacking District and Midtown West in Manhattan. The siting of the proposal taps into city nodes for a safer, greener, more pedestrian and cycle friendly vertical neighbourhood. It draws on the vitality of the High Line park, replicating it vertically 40 storeys into the New York skyline.
The structural steel system was designed by ARUP Sydney. "It's a hybrid structural system where the triangulated diagrid system acts as an exoskeleton providing lateral stability and vertical support," said NBRS design team, "This frees the internal space from needing internal intermediate structure allowing ultimate flexibility for remodeling or use changes over its life span." See more of the scheme here.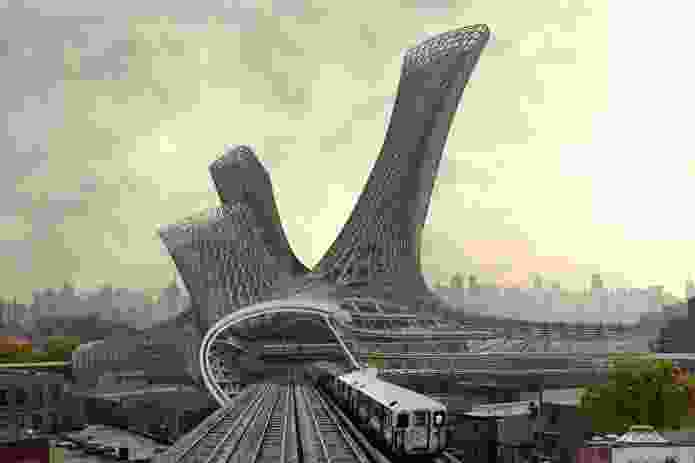 The other winning scheme is Urban Alloy by AMLGM, a collaboration between two California-based designers Matthew Bowles and Chad Kellogg. It too is a proposal that straddles the railway at the intersection of two train lines in Queens. The design is a slender, organic structure with sprouting tentacles that extend horizontally along the train lines and vertically into the sky.
New York City is one of the most densely populated cities in the developed world. In the Urban Age when more than half of the worlds population now live in cities (for the first time in history), this competition provides a pressurised texting ground and highlights the imperative on the architecture profession to find new ways of living in the urban context.
On the 2014 jury: Kai-Uwe Bergmann (Bjarke Ingels Group), Eileen Hatfield (Buro Happold), Sylvia Smith (FXFOWLE), Gary Higbee (Steel & Ornamental Metals Institutes of New York).
Related topics