Photographs Andrew Lane.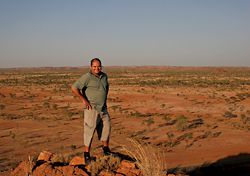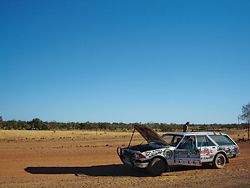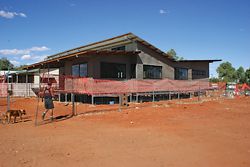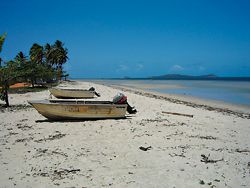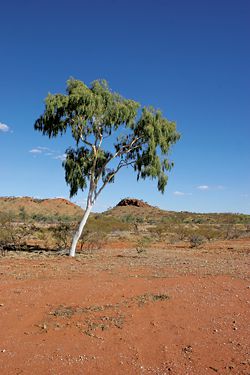 I can't count the number of times I have stood in a place of remarkable beauty on a work trip and said, "I really like my job". It might be the tropical beauty of an island off the coast of Queensland, or the rugged beauty of the central desert. But it is not the destination I wish to share, it's the journey.
Although I am of Aboriginal descent, I had not thought of a career working with Indigenous people and communities until 1994, when I had the opportunity to work for the Queensland Government's ATSI Housing Design Unit. Studying at the University of Queensland at the same time, I had regular contact with Paul Memmott, who conducted lectures on Indigenous history, architecture and issues, and who became my thesis supervisor. In these formative years, the idea of a career in the Indigenous sector became reality.¹
I have worked for a government agency and a not-for-profit NGO and am currently employed in the private sector. All of these organizations are staffed by people who are committed to making a change in the lives of people in Indigenous communities – and they have to be. Differences in project scope, scale and people mean that no project is the same as another. This is a double-edged sword – the variety means that each project is challenging (good for keeping the mind active), but also frustrating (bad for keeping the hair on your head).
I have been involved with houses, community stores, art centres, subdivisions, water infrastructure, solar power systems, learning centres and health clinics. Budgets have ranged from $65,000 to $39 million, and the work has been across the length and breadth of Australia in urban, rural and remote locations.
Working remotely means getting on a plane or driving for hundreds of kilometres. Some may find it exciting to fly to work but the novelty of sitting for two to three hours in a twin engine aircraft at 10,000 feet does wear off. I have done day trips from Cairns to Burketown where I leave home at 5:30 am, returning more than fifteen hours later at 9:00 pm.
There are many destinations where infrastructure such as hire cars simply doesn't exist and you rely on the community or the contractor to get around. A few years ago I travelled to Normanton with a builder to pick up his car in order to do inspections in Burketown and Gregory Downs. We arrived to find his car had been stolen the night before.² He arranged alternative transport with a "mate" and we left in an old Ford Falcon that had been modified for a Variety Club bash. After sixty of the four hundred kilometres we needed to cover, the water pump blew and we were left on the side of the road. Hitching a ride back to Normanton, the builder scavenged another car, which fortunately proved more reliable.
There are also regular reminders of the dangers of remote travel. A colleague thought I was kidding about a plane going down in the Torres Straits until we flew into the airstrip three weeks later and the plane was still in the lagoon beside the strip. Our pilot said we were unlucky not to see the resident crocodile that often slid up onto the wing to sun itself. Coincidently, I was flying with the same colleague a year later when we saw another light plane that had landed in the swamp at Townsville Airport. Small talk with the pilot on another charter led to him describing the one he (and three passengers) walked away from.
I have met many people who have committed substantial parts of their lives to working with Indigenous communities. While they represent a diverse range of people from across Australia, there are common traits. Firstly, they are generally not ostentatious. There may be two reasons for this – you do get dirt on your boots and flies in your eyes, and it is an in-your-face experience of the gap between living in a remote community and the urban lifestyle of most city dwellers. It simply doesn't seem right to complain about having a cold shower at home because all the hot water has been used when you've just been in a house where there is no hot water at all.
Another significant trait is that they are not doing it for themselves. This sort of work is about others. At university I remember having conversations with other students along the lines of "What will the world remember me for?". People who think this way are unlikely to be attracted to the Indigenous sector. It is not about creating a legacy for ourselves – it is about real people who live in real communities. But this is not to say that good design and legacies are not possible within the field. Designs by architects like Deb Fisher in Cairns and Dillon Kombumerri in Sydney are worthy of (and rightly have had) nominations for design awards. Paul Pholeros has created a legacy through the Fixing Houses for Better Health project – a project that will continue long beyond his (I hope distant) passing.
I would like to share one personal story, about a builder from Sydney – Ramsin Badal. With neither remote building experience nor Indigenous experience, he felt called to get involved with Indigenous work. There was caution about giving a large package of works to a builder not experienced in the difficulties of supply chain logistics in remote areas, but he was awarded a small package of works in Dajarra, 150 kilometres south of Mount Isa. After driving trucks for two days from Sydney, Ramsin's team reached the Queensland border and the true size of Australia dawned on them. When they arrived at Dajarra they froze at night. The scoping work had been done in December, when 40oC+ is not unheard of, but they mobilized as winter approached, when temperatures can be subzero at night, and they had all packed for the hotter weather. He also experienced the frustration of driving 150 kilometres to the nearest hardware shop in Mount Isa, only to find the supplier had sent the wrong item. The difficulty of being so far from family and managing staff is also a major factor when building in remote areas. But when you speak to Ramsin today, he talks of how he loves the surrounding country and how he enjoys being part of a small community. You speak to the community leaders and they tell you that Ramsin sponsored the local footy team, that he bought books for the local school and that he has been fixing things here and there within the community. Ramsin has engaged with the community and the community has engaged with him. He would acknowledge that there have been difficulties, but he has had no regrets about answering the call to get involved.
And finally, there are the community people you meet. Tenants, housing officers, CEOs, council employees, CDEP workers, the list goes on. These are the people actually living in the communities, who have to deal with the issues of distance from services, with government agencies and, often, with just trying to survive. These are the people we work for. As with all communities populated by individuals, they each have their own stories and reasons for being where they are.
The career I have chosen and the opportunities that have been presented to me have enriched my life through the community people I have met, the professional people I have worked with and the landscapes I have experienced.
Regardless of your background and your reason for choosing to become an architect, if you get involved honestly with work in the Indigenous sector, you too will enrich your life.

Andrew Lane is an Indigenous architect currently doing project management in an engineering firm. He is a member of the Australian Institute of Architects' Indigenous Housing Taskforce.

1. I use "Indigenous sector" to mean work for the benefit of Indigenous people. It ranges beyond architectural fields and includes all Indigenous peoples, whether they live in urban, rural or remote communities.

2. The builder's car was found badly damaged and the tools never recovered as they had been thrown under the wheels when the car got bogged.