Jury citation
The Flinders Street Revitalisation appears to have achieved everything one might hope for from urban design. The heart of Townsville, Queensland has indeed been revitalized, crime has reduced, citizens feel safer and increased pedestrian and vehicle traffic has led to increased economic activity. This has triggered the redevelopment of abandoned sites and more intense use of the existing fabric, which had been in decline. The way the town is occupied and perceived has been turned around by a comprehensive, intelligent approach to urban function and identity.
This was done by stitching the fabric of the city back together. A failed pedestrian mall has been stripped away and Flinders Street is remade as the city's main street; a car park becomes a new pedestrian square that reconnects Flinders Street to the water's edge and to the existing heritage bridge linking to the other side of the city.
These large-scale actions are reinforced and complemented by the sensitive handling of urban materials to create intimate places for people and infrastructure for the street. Simple, successful moves bring amenity and comfort – seating, shelters, planting, art and information are all incorporated in an appropriate, engaging language. These perfectly scaled elements also provide a nuanced climatic response. Each responds to the particulars of its site and all provide discrete moments for rest, contemplation, reflection and participation. The design of these facilities maintains maximum transparency at eye height, with the eroded columns of the small street pavilions being a particularly successful example of urban ideas informing a delightful detail, like fig trees suspended on aerial roots.
Flinders Street Revitalisation is excellent in both conception and detail.
Read the project review by Helen Norrie in Landscape Architecture Australia.
Credits
Architect

Cox Rayner Architects
Australia
Project Team

Michael Rayner, Tim Morgan, David Kirwan, Mathew Cavanough, Brendan Kenny, Jonothan Kopinski
Consultants

Builder Watpac
Certification consultant National Certifiers
Civil and structural consultant AECOM
Cost consultant Rider Levett Bucknall Brisbane
Electrical and mechanical consultant AECOM
Heritage consultant Ray Holyoak, Riddel Architecture
Landscape consultant Gamble McKinnon Green Brisbane
Services consultant AECOM
Signage Dot Dash
Street furniture Derlot

Site Details

Location Townsville, Qld, Australia

Project Details

Status Built
Category Landscape / urban
Type Outdoor / gardens, Public / civic, Refurbishment

Source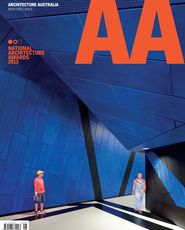 Issue
Architecture Australia, November 2013
Related topics