Design statement
Distinctive, vibrant and unmistakably modern, the twenty-eight-level Crown Metropol hotel features a unique wave-like shape, sleek podium entry, 658 spacious, light-filled guest rooms, a luxurious day spa located on the top floors of the hotel, a sky bar and terrace on level twenty-eight, Gordon Ramsay's Maze restaurant and Maze Grill, extensive meeting facilities and a dedicated business centre, and a training and recruitment facility. The project provides a unique approach to spatial planning by developing the design from the inside out. The curve of the building creates an interior experience that is continually revealed for the guest. There are no long, gun-barrel corridors confronting guests, often the cause of that awful anonymous hotel experience. Using lighting, colour and architectural detail, the building's curves were emphasized to make the interior intimate, inviting and slightly mysterious. These qualities are essential to creating the feeling that this is a boutique, "small" hotel. The designer's collaboration with Australian and international artists, rug designers and artisans gives the interior a layered, boutique ambience rarely seen in a large hotel.
Jury comment
An outstanding project that succeeds in creating intimate-scale boutique interiors in a large-scale hotel. This has been achieved by the designers through hand-crafted elements, unique detailing and the integration of carefully selected and diverse artworks in the guest rooms and public spaces alike, creating personality and individuality. The interior planning embraces the curvaceous architectural form and creates a journey for guests. The essence of a boutique hotel experience is achieved as spaces are continually revealed to visitors with elegance, detail and delight. The layering of materials and finishes throughout the hotel is exemplary, and this is consistent within public and private spaces. Common areas are elegant but not intimidating, and guestrooms are serene and calming with personalized detailing.
Products and materials
Exterior

Cladding is Alucobond Natural. Roofing is Lysaght Spandek Woodland Grey and Alucobond. Facade design is Bates Smart and Aurecon. Facade contractor is G James (tower) and Minesco (podium).
Walls

Chinese black slate wall tiles from Edwards Slate and Stone. Other tiles from Buckleys Ceramics, Urban Edge, Artedomus, Erneste Tile Concepts, Jo Luping Design & Prime Ceramics. Plynyl to walls by Chilewich. Wallpapers by Grant Dorman, Seneca Textiles and Radford Furnishings.
Windows

Blinds and drapes from DAAC Holdings and Turner Brothers.
Flooring

Custom rugs and carpets designed by Bates Smart and NIBA and manufactured by Brintons. Carpets by Feltex. Bolon woven textured vinyl from TAG Floor. Quartz carpet by Alternative Surfaces. Vinyl by Artigo Rubber Flooring, Armstrong ? Gerflor. Blustone floors in custom rhomboid shape supplied by Baron Forge. Terrazzo supplied by TTI. Tiles by Classic Ceramics, Ceramic Solutions, Erneste Tile Concepts and Metz Tiles.
Lighting

Maze restaurant feature pendants by Foscarini (available in Australia at Space Furniture). Heat lamps and blown-glass lamps in Maze restaurant and feature lights at pool deck are designed by Bates Smart and manufactured by Design Sense. Custom Stick lights designed by Bates Smart and manufactured by Lampada.
Furniture

Maze restaurant and Level 28 club furniture includes custom timber tables with ceramic inserts designed by Bates Smart. Ceramic inserts by artist Brian Keyte via Skepsi Gallery. Custom banquette seating designed by Bates Smart. Other furniture from Classique, Walter Knoll (available at Stylecraft and FY2K) and Moroso (available at Hub Furniture).
Bathroom

Suppliers include Reece, Rogerseller, Decina and Apaiser Bathware.
Artworks

The ground floor showcases Australian artist Noël Skrzypczak's large mural painting, seven sculptural timber balls made out of chestnut by Korean artist Lee Jae-Hyo, a stunning black metal wall sculpture by Hong Kong artist Annfielde Chan and custom-designed carpets by Bates Smart and New York textile designers, NIBA. Running the full length of Maze and Maze Grill is a three-dimensional mural as well as a series of smaller, intimate sketches by Melbourne's David Band. In the Business Centre, Australian artist Jayne Dyer's metal butterfly sculpture takes pride of place in the pre-function area. The meeting rooms are high-lighted by a series of still-life photographs by leading Melbourne photographer Earl Carter. A striking mounted wall sculpture by Sydney's Marion Borgelt, elegant feather installations by Brisbane's Pamela See and two contemp-orary paintings by Melbourne's Miranda Skoczek are beautifully displayed in and around the luxurious Isika day spa on level 27. Above, on level 28, a brightly coloured painting by Hong Kong artist Chan Yu in the lift lobby leads through to an installation within the sandblasted timber bookshelves of the lounge and dining areas by Australian artist David Sequiera, while a commissioned pale blue glass sculpture by New Zealand–based artist Christine Cathie appears floating on a reflective surface on the top of the island banquette. The 658 guestrooms, studios and lofts feature artwork by David Band in collaboration with Fraser Taylor, which have been individually hand-painted, providing unique pieces to each hotel room. In "The Apartment," an eclectic collection of mixed media pieces creates a feature gallery wall.
Credits
Design practice

Bates Smart Melbourne
Melbourne, Vic, Australia
Project Team

Jeffery Copolov, Kristen Whittle, Roger Poole, Fulvio Facci, Claudia Fleuter, Roger Chapman, Mirjana Sazunic, Kendra Pinkus, Andrew Raftopoulos, Grant Filipoff, Jan Eastwood, James Christophidis, Anke Pfeiler, Ben Nicholas, Simone Morgan, Hilary Griffiths, Amanda Furness, Mark DiBortolo, Tony Antoniou, Brian Mason, Tammy Yu, Craig Benton, Liz Doube, Wee Long Fay, Vivek Matthews, Alex Zudich, Kate Wardlaw
Consultants

Builder Baulderstone
Civil engineers Aurecon
Earthworks Delta Group
Fire engineering Thomas Nicholas
Graphic design Fabio Ongarato Design
Landscaping John Patrick Pty Ltd
Mechanical systems contractor AE Smith
Project manager Jinton
Quantity surveyor Rider Levett Bucknall – Melbourne
Signage manufacturer Claude Neon, Premier Graphics

Site Details

Location 8 Whiteman Street, Southbank, Melbourne, Vic, Australia

Project Details

Status Built
Website http://crownmetropol.com.au/
Category Hospitality, Interiors, Public / commercial
Type Bars and cafes, Hotels / accommodation, Restaurants

Client

Client Crown Metropol
Website crownmetropol.com.au

Source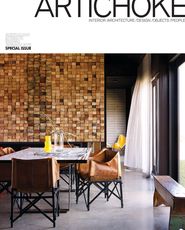 Issue
Artichoke, April 2011
Related topics