The NSW government has approved plans for a $125 million redevelopment of one of Australia's most expensive private schools in Sydney's east.
Designed by Architectus, with landscape architecture by Arcadia Landscape Architecture, the upgrade to Cranbrook School will include a new aquatic and fitness centre with a 50-metre swimming pool, theatre, performance rooms, assembly hall, dining area, chapel and 11 new classrooms.
The project involves three distinct built components: the academic and liberal arts building, dubbed The Centenary Building, the aquatic centre and an underground car park.
They will be centred around the historic Hordern Oval, several hundred metres from Sydney Harbour, with the oval to be re-turfed. Two post-war buildings that have been judged to have been modified over time and to be of moderate heritage significance, will be demolished to make way for the new buildings.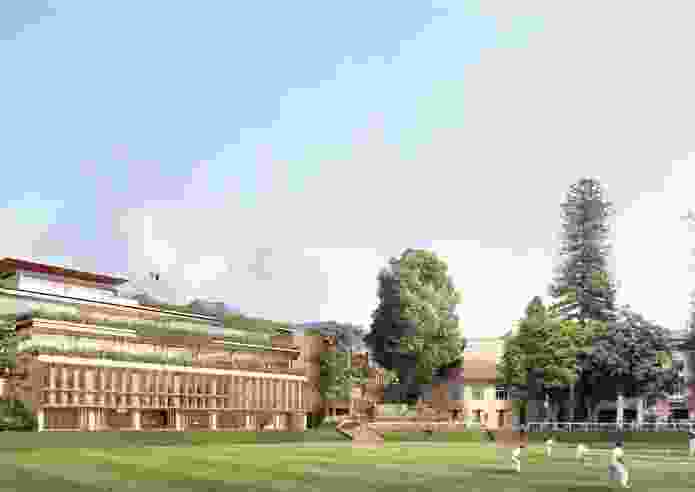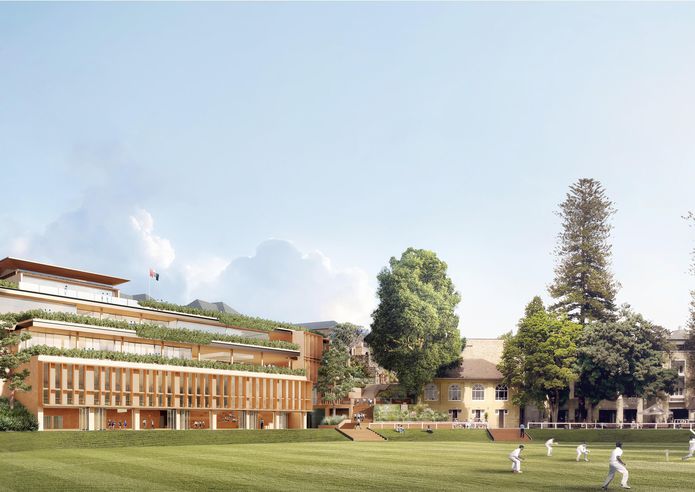 The Centenary Building has been designed to address the sloping topography of the site by way of a series of terraced levels that step down with the sloping landform. It will have a turfed roof surface designed to "engage the building with its landscape."
At the north of the site, the Aquatic and Fitness Centre will address the public domain with an open space and landscaped area aimed at "symbolically and physically reconnect the school to the public realm."
Both buildings will feature a material palette that emphasizes sandstone and copper.
The architects state, "The ultimate outcome is to create a unique campus of beautiful spaces and buildings with unifying architectural aesthetic that is harmonious and consistent with the school's highly valued legacy."
Architectus were appointed to the project following a design competition in 2016-2017, beating out the three other shortlisted practices – BVN, FJMT and Tonkin Zulaikha Greer.
Nicholas Sampson, the headmaster of the boys' school, said the project would renew the school's aging infrastructure. "This once in a generation project will provide new, improved facilities for students and teachers now and into the future, delivering state-of-the-art teaching and learning spaces along with upgraded sporting and cultural facilities which will better support Cranbrook in providing world class, well-rounded education to its students," he said.
Construction is scheduled to begin this year.
Related topics