John Wardle Architects' winning design for the Australian Tapestry Workshop's inaugural Tapestry Design Prize for Architects has been completed and was unveiled in a cutting ceremony in September.
The design, entitled Perspective on a Flat Surface, was awarded joint first prize in 2015, along with a design by Kristin Green (director of KGA Architecture) with Michelle Hamer entitled Long Term Parking.
The tapestry was produced with a donation from Sydney arts philanthropist Judith Neilson, for whom John Wardle Architects is currently designing a new private art gallery and performance space in collaboration with Durlach Block Jaggers, Janet Laurence and Khai Liew.
The tapestry design plays on the relationship between architectural interior as an enclosure and tapestry as a surface.
"We thought, maybe we could combine what we do as architects – space-making and the performance of space – and see if we could project that into a form that could be made into a tapestry," architect John Wardle told ArchitectureAU. "The one thing that we deal with that tapestries invariably don't is perspective."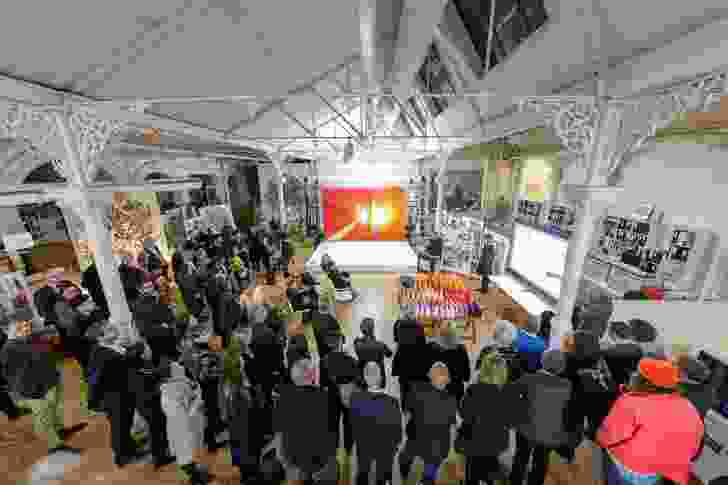 The tapestry references Renaissance architect Andrea Palladio's Teatro Olimpico (Olympic Theatre) in Vicenza, Italy with its set design by Vincenzo Scamozzi. The sets feature exaggerated perspectives of long streets receding into the horizon.
"What we did was we inverted that. We created an imaginary object – a structure that actually projects towards the audience to create new picture planes and a sense of advanced perspective and then rendered the effects of light and view within this imaginary object," Wardle explained.
The tapestry will hang in Neilson's new gallery, to be named the Phoenix Gallery, which will be built in Chippendale, Sydney next to Neilson's new house Indigo Slam designed by Smart Design Studio.
At the cutting ceremony, Neilson explained her decision to fund the tapestry was influence by her father: "My father was in North Africa in the second world war. He was in Libya and he was hit by shrapnel. He was taken to Cairo and was in hospital for a year. All of the servicemen in hospital had to either sew or knit, they weren't given a choice and my father started to do tapestry. He never stopped doing tapestry. So I think that perhaps he wanted this."
The tapestry will the centrepiece at John Wardle Architects' 30th anniversary celebrations in October 2016.
The Australian Tapestry Workshop is working with 2015 joint winners Kristin Green and Michelle Hamer on funding options to produce their tapestry design.
The winner of the 2016 Tapestry Prize for Architects was announced in August.
Related topics