Melbourne's 'pantscraper' hemmed and approved
Victoria's Minister for Planning Richard Wynne has negotiated a height reduction for a Melbourne CBD tower development at 447 Collins Street, designed by New York-based SHoP Architects and Australian practice Woods Bagot.
The 165-metre-tall twin tower development was previously twice rejected, most recently by Wynne due to overshadowing of the nearby Yarra River and Southbank precinct.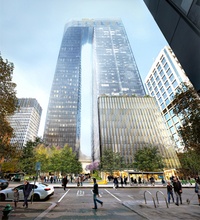 In a deal struck between the developer Cbus Property and the planning minister, the developer agreed to reduce the height by 21.6 metres (or six storeys) and submit an amended proposal before a planning permit is granted.
According to The Age, the now 142-metre-tall proposal will still overshadow the north bank of the river but will not fully overshadow the river at the winter equinox. The Australian Financial Review calculates the development would exceed the height limited applied under Melbourne's interim planning controls by 22 metres.
The proposed $1 billion mixed use development will occupy a city block bounded by Collins, Williams and Market Streets and Flinders Lane. Local media have dubbed the project the "pantscraper," presumably due to its resemblance to OMA's CCTV tower in Beijing, which is often referred to in China as "the Big Pants."
The original tower proposal, a 100-storey building rising to 295 metres, was rejected in October 2014 by then-planning minister Matthew Guy.
Part of the current proposal will see a portion of Market Street turned into a publicly accessible park. The park is an addition negotiated by the City of Melbourne in 2014 in exchange for the council allowing the developer to flout planning controls regarding overshadowing of the river.

The development will also have a hotel, apartments and retail spaces.
The planning minister earlier rejection of the development caused sparked a heated exchange between Wynne and Lord Mayor of Melbourne Robert Doyle. The lord mayor said the project had become a "political pawn" and the planning minister returned fire by stating the lord mayor had "failed" to stand by his own planning controls.
Doyle told The Age the agreement is a "win for common sense."