My path to architecture was not a conventional one. After being talked out of such a career by my Year 10 adviser, I followed a tangential path of engineering and construction. By the time the gift of a lifetime landed in my lap – a gig as a bus driver on a twenty-eight-day European architecture tour studying the greats of the twentieth century – my head was full of ideas. A couple of years later I decided to study architecture.
The Punch Street House (see Houses 51) came along at just the right time – it was during my third year of university and I needed money to pay for my wedding. The commission came from a good friend who saw potential in the worst house on the best street. The project was long, hard work, but the challenge and opportunity made it enjoyable. I knew that once the plans were approved I'd have to leave my job and start my own practice. This happened in my fourth year of university – with a couple of new projects and a building to document for construction, I was off and running.
The brief for the Punch Street House was simple. As well as three bedrooms, the clients wanted to live at the view and to liberate the dark house with natural light. It seemed perfect for an ambitious young architect and it came with a great client. To achieve the brief on the tiny 125-square-metre site, the planning needed to be ordered vertically, not horizontally. Bedrooms were stacked at the rear, while the living areas were stacked at the front, open to the views. Greater access to natural light was achieved through an over-scaled glazed facade around a central courtyard, making all spaces only one room deep and allowing breezes to be received across the plan.
The entry was the greatest challenge. How do you disguise a three-storey facade in something that reads as two? How do you bring light into the plan, address the pedestrian street and provide an entry that would maintain privacy to the house? The design took many, many hours, mostly on weekends, and creating the model took the entire two weeks of the French Open.
Punch Street House crystallized my many disparate architectural thoughts. At that time an Alvaro Siza monograph was a source of inspiration. Siza's control and rigour, his economy and robustness played into my general sense of what I thought was good architecture. Siza, among other influences, inspired me to work with only the essential ideas – that natural light was fundamental, that buildings didn't have to float over the earth but could be heavily anchored to it, and that a threshold defined how you would experience contained space. Punch Street House was the distillation of my interpretation of Siza's work, and the rationalization and realization of my own architecture.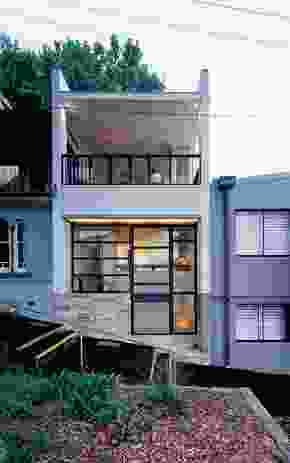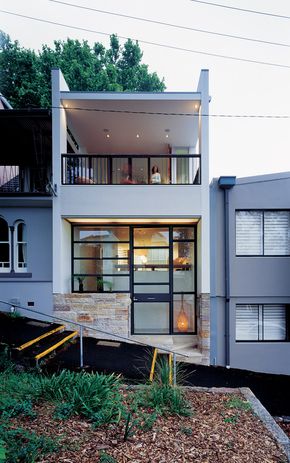 The context for this project was a great teacher. A street of Victorian terraces and a local council set on a simplistic historical view of planning meant the streetscape elevation had to be interpretive and contextual. This meant I had to learn to read the terrace facade and abstract it. Before the design could begin I had to define the primary and secondary lines, the positive and negative spaces, to set these up as compositional rules. This framework made for rich exploration and ultimately a new building that fit seamlessly into its context. This lesson still informs Carterwilliamson's work today.
Looking back it was a heady time. A crazy belief in my ability (let's call it bravado), a dedicated client and a good builder made it a great first project. Starting practice during a building boom also had its advantages.
Much of the studio's DNA can be traced back to this building. In the Punch Street House we can trace Carterwilliamson's ideas of fitness of plan, robustness in building and a driving desire for luminous space.
I love the grand entry to this house, too. All our houses have one, but the one at Punch Street is still one of my favourites. For Carterwilliamson, the front door is the most important threshold – a carefully considered moment where you leave the public realm and journey into the private.
I also enjoy the project's faults. I can see them now. I'd do half of the glazing differently. Too much glass is too much! I was susceptible to the Sydney over-glazing disease of the 1990s. More material texture and lush, billowing curtains would help too.
My feeling is that architects have a fondness for their special projects. Punch Street House is one such project for me. It launched Carterwilliamson, and in the process set the path that we follow today. If you believe in the ethos "start as you intend to finish," then Punch Street House was the perfect start.
This project was first published in Houses 96 as part of the First House series where architects revisit their first built commission.

Credits
Architect

Carter Williamson Architects
Sydney, NSW, Australia
Project Team

Shaun Carter, Anna Williamson, David Parsons
Consultants

Builder Inten Constructions
Engineer O'Hearn Consulting
Joiner David Stapleton

Site Details

Location Sydney, NSW, Australia

Project Details

Status Built
Design, documentation 6 months
Construction 8 months
Category Residential
Type New houses

Source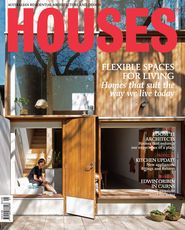 Issue
Houses, February 2014
Related topics