Unlike the many architectural offices that begin with the modest goal of merely landing a job or two, Sibling was formed in Melbourne in 2012 as a utopian collective with world-conquering ambition. The eight young directors who founded this idealistic enterprise then set up a live-work "commune" within a Melbourne warehouse, produced a video manifesto on "architectural participation," and exhibited "propaganda posters" at the 2014 Istanbul Design Biennial. Five of its directors – Amelia Borg, Jane Caught, Nicholas Braun, Qianyi Lim and Timothy Moore – continue to work for Sibling either full-time or part-time. Utopian visions may have given way to clients and commercial projects, but Sibling is now positioned to turn dreams into reality.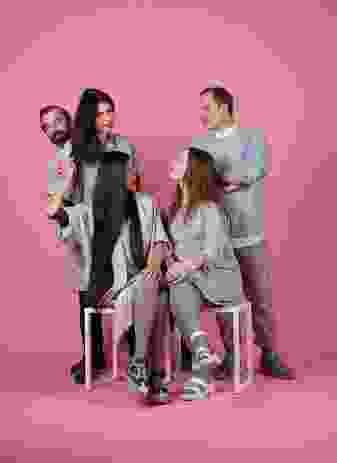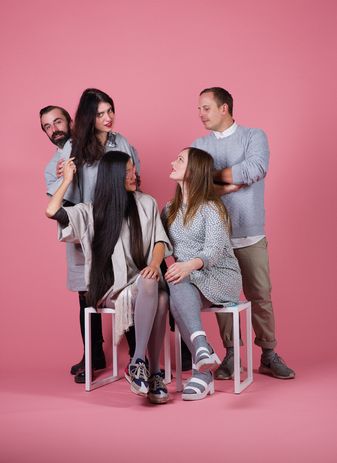 Harking back to their utopian beginnings, the infinite grid is a recurring motif in Sibling's work. But in contrast to the flat grid of radical 1960s Italian collective Superstudio, Sibling's grid extends into three-dimensional space, wilfully blurring virtual and physical realities. In its temporary exhibition On/Off, Sibling explored the effects of technology and heightened connectivity on our built environment. Within a red steel grid was a modern-day Faraday cage that blocked smartphone reception and provided "the ultimate disconnection space." The repeated appearance of the grid in Sibling's work signifies a reaction against the conventional architectural emphasis on tactility and craft. Instead, Sibling employs reflections, illumination, atmospherics, graphics, movement and optical effects to produce architecture of spectacle.
In three recent projects by Sibling – headquarters for media company Vice Australia, a workplace for creative agency Squint Opera, and Gertrude Glasshouse gallery space – the grid emerges in different permutations. Half of the shoestring budget allotted for Vice Australia's headquarters in Melbourne went into heating and cooling the late-Edwardian warehouse. In this project, the grid is employed as a space frame and used to occupy a cavernous 1200-square-metre volume. White powdercoated steel room dividers bring scale to the vast interior and are set against a horizon line rendered in vivid blue paint. Asked whether hipness is a conscious concern, Sibling's Timothy Moore quips, "We don't think about the word 'hip,' otherwise we would be doing Edison light bulbs and subway tiles." The Vice office is trendy enough for its media clientele without resorting to the familiar tropes of ping-pong tables and salvaged timber pallets.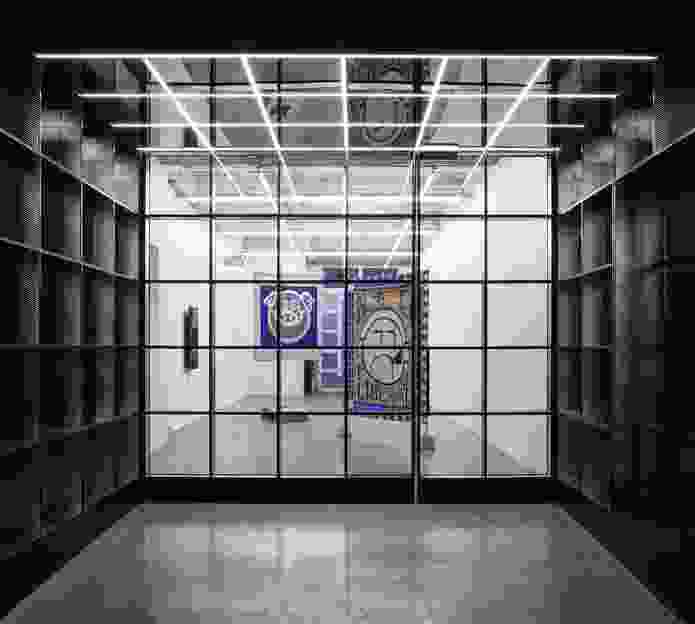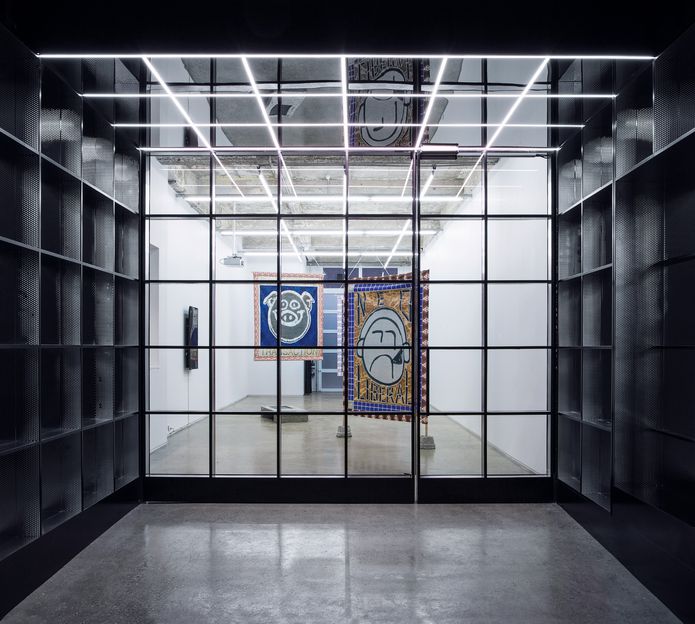 A much more slender and ephemeral grid colonizes the workspace of creative agency Squint Opera. This lightweight steel mesh forms office partitions and creates a framework for hanging plants. Reminiscent of the wire-frame matrix these computer artists inhabit, Sibling's architectural intervention extends the digital realm beyond the confines of the screen. Meanwhile, Gertrude Glasshouse, a newly inaugurated gallery for Melbourne art institution Gertrude Contemporary, literally takes art to the street. Hidden behind a roller door is a mirror-lined threshold that doubles and distorts the gallery space beyond, projecting artworks into the laneway.
The recurrence of the grid throughout Sibling's work generates consistency within a diverse range of projects. This young firm does not feel the expected pressure to constantly reinvent itself for each new project. Instead, its output has been consciously curated and refined. However, even as I write this, it is possible that Sibling's aesthetics are changing. The grid may be no longer – perhaps circles are the next motif?
With its abundance of directors, Sibling can operate as a small, emerging practice capable of focusing on individual clients, while boasting the personnel of a larger office. It bears comparison with English studio Assemble, which has eighteen members. Assemble was once seen as a bunch of charming hippies making pop-up spaces in their spare time, but is now designing large-scale housing estates and is a finalist for the Turner Prize, the UK's most prestigious art award. Sibling appears to be in a similar position in Australia. While it may have initially seemed like harmless fun, with projects such as Walking Shelter (sneakers that unfurl into wearable tents), Sibling is now an industry force. It lapped the field at the 2015 Australian Interior Design Awards, winning the Retail Design category, Emerging Interior Design Practice Award and the Premier Award for Australian Interior Design for shop fitout DUST. These awards recognize an impressive body of work and now, larger projects are looming. World domination seems within Sibling's grasp.
Source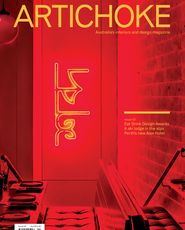 Issue
Artichoke, December 2015