When Sydney chef Chui Lee Luk and Melbourne architect Pascale Gomes-McNabb – both notable restaurateurs in their own right – formed a friendship two years ago, there was more in store than just regaling each other with hospitality stories. It was the beginning of an exciting creative partnership that has been realized in the refurbishment and refreshment of Luk's much-loved Sydney fine dining restaurant, Claude's of Woollahra.
Sitting at the top end of Oxford Street and behind a terraced facade, Claude's had operated for thirty-six years with a distinguished list of chefs at the helm. Luk took over in 2004 and her Asian and French cuisine has continued to develop, to the point where the interior needed to change to keep up with what was happening on the plate.
For Luk, the refurbishment was a chance to contextualize the smaller changes she had been implementing, and also a change in direction for her hospitality style. "My previous philosophy to creating a restaurant space was that it should be a neutral palette and neutral space so that the people who populate it, from the floor staff and chefs to the diners, are the ones who gave it the character. Having come to know Pascale and her philosophies, [I now realize] the dining room itself has to play a part in the dining experience."
Gomes-McNabb, who is renowned for her detail-driven and thought-fully referenced spaces such as Cumulus Inc., Stokehouse and Bentley Restaurant and Bar, was charged with dividing the terrace space into a clearly demarcated casual and accessible bistro downstairs and fine dining area upstairs. "The past interiors verged on the traditional side. The client wanted to shake up that notion while wanting to marry the interior design concept with the food concept," says Gomes-McNabb.
"Chui's food is an interesting and subtle combination of flavours and cultures; modern contemporary food which needed a space to harmonize with."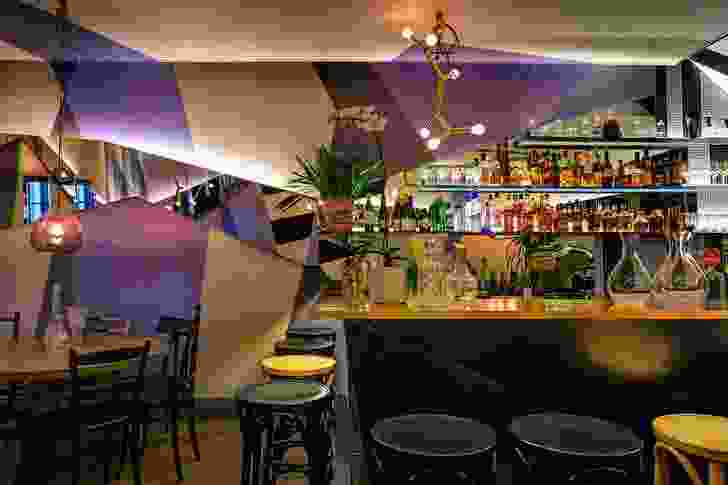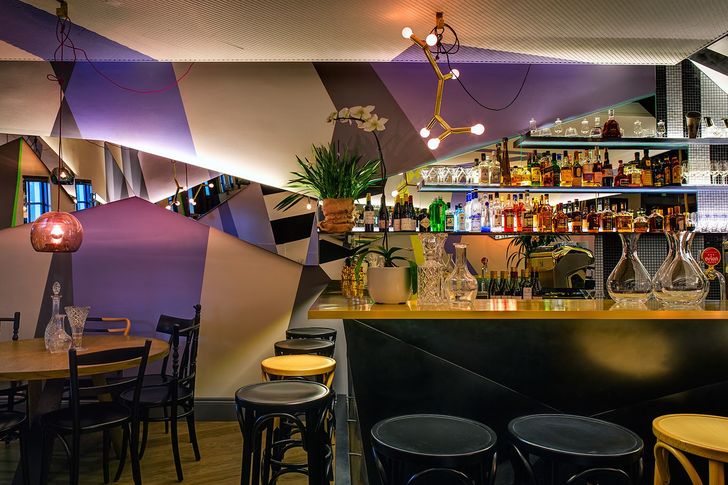 Upon entering the downstairs space there is an immediate sense of movement and action. Gomes-McNabb drew inspiration from the "dazzle ships" of World War I – warships painted in a visually disruptive camouflage of geometrics designed not to hide the ships, but to confuse the enemy as to the size and shape of a vessel. British painter Norman Wilkinson devised this unique form of camouflage, drawing from principles of modern art at the time: cubism, futurism and vorticism. Gomes-McNabb's interior is awash with wild pattern and, once noted, the reference is strikingly clear. The dazzle ship-inspired lines intersect throughout the space and can be seen in the oak flooring pattern and tabletops. Even the Thonet chairs have been given the dazzle treatment, handpainted to continue the lines from the walls to the chairs.
Gomes-McNabb breaks up the space using mirrors, metal and colour. To support the contemporary bar menu of snacks and light meals downstairs, a black metal bar with a brass top welcomes visitors into the space at street level. The use of assorted lighting further adds to the movement, with each new light fitting breaking the gaze.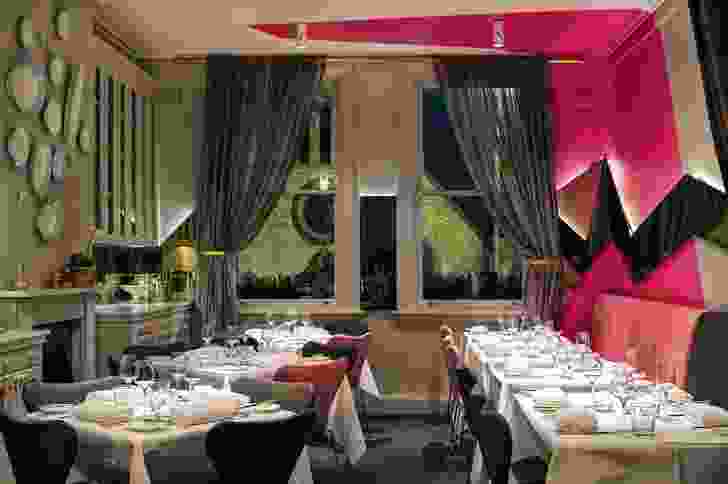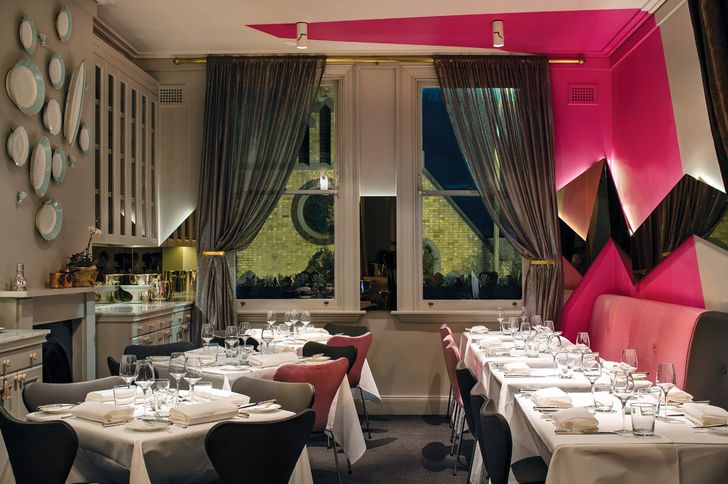 The drama of the space increases as the stairs ascend. The food becomes more serious – a five or eight-course degustation menu each night. Bronze mirrors wrap the room, allowing customers to view almost the entire space from any seat. The palette is neutral, but with pastel highlights; it is reminiscent of the intersecting lines downstairs but far less hectic because of the colour choice. Dark carpet grounds the space and diaphanous curtains glitter under the light, picking up the highlights of the plush brass detailing on the stairwell. Even though it is a busy space, the room manages to evoke a feeling of tranquil sophistication.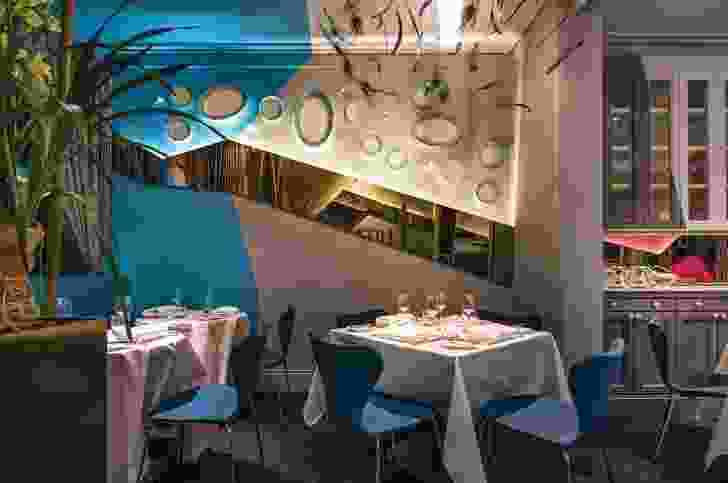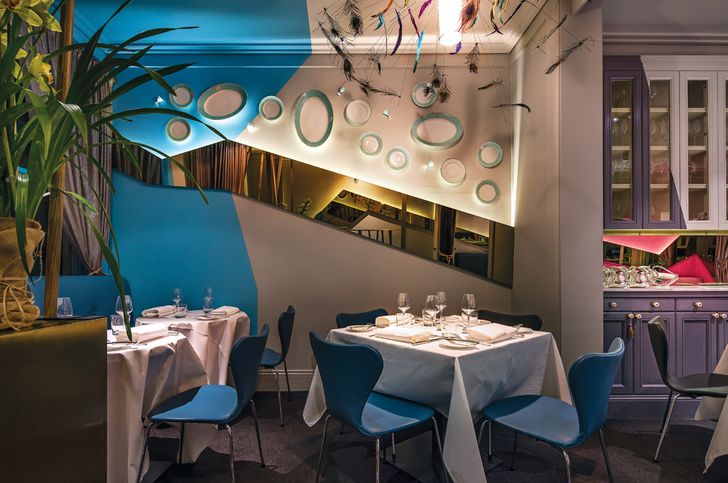 Pascale nods towards subtle opulence and history with a striking display of a green-and-white Napoleonic Limoges dinner service – a Claude's heirloom – arranged with assistance from Luk. Luk played a significant part in physically preparing the space and even constructed the eye-catching chandelier. "I constructed it out of feathers. Pascale had this obsession with peacock feathers but I couldn't find enough, so we used coloured feathers instead. The intent is to keep changing it but we have to find the next inspiration!" Luk says.
With Gomes McNabb's interiors being seen increasingly in Sydney, it is natural to wonder which city she prefers designing for. "Both are great Australian cities. The only major differences are the quality of the light, especially when reflected off the water, which sometimes makes Sydney sparkle, and that the temperature is a few degrees warmer there. Those small differences do make an ever-so-slight impact on the way you consider putting together a concept. Melbourne is still thought of as rainy and a bit gloomy, hence the extensive use of darker, moodier tones. However, I think it's interesting that Sydney wants some of that darker attitude."
For Luk, the project gives context to her food and her updated vision. "The food had always been moving in this direction, so Pascale was able to pick that up and translate it into the vibe of the place. Everything is more in sync now. Having a space that no longer looks like traditional Claude's frees me up in my thinking of the food. It will come out more and more."
Products and materials
Walls and ceilings

Dulux paint to interior and exterior walls. Mosaic tiles to wall. Viridian silver mirrors downstairs and bronze mirrors upstairs.
Windows

Dulux paint to architraves. Zepel fabric curtains. Custom-made brass curtain rail and holder by Louis Berczi of Berczi Copper Company. Metal planter box.
Doors

Dulux shine metallic paint. Brass door pull to front door. PGM Design + Build vinyl print to back door. Existing hardware to all other doors.
Flooring

Solid American oak timber flooring with light Japan stain and water-based polyure-thane finish. Altro vinyl behind the bar. Feltex Carpets upstairs. Existing timber floor, stained.
Lighting

Downstairs: Christopher Boots pendant light, Mark Douglass glass spheres, Moooi light. Upstairs: Ingo Maurer Zettel'z with bespoke feather addition. General lighting: Euroluce Reggiani surface-mounted Sunny Light. LED strip behind shelves, under bar and cabinets. Anglepoise Tolomeo micro light with clamp from Artemide. Beacon Lighting exterior light fittings.
Furniture

Downstairs: Thonet chairs and stools, PGM Design + Build tables with American oak top and powdercoated mild steel leg, brass sheet exterior waiter station, brass rod and timber section screen. Upstairs: screen and balustrade with brass and timber rods, waiter station with brass top and brass-faced drawers, Carrara marble top to existing joinery.
Bar

Stainless steel splashback and benchtop. Open shelves with black Dulux powdercoat. Mild steel bar shelves with LED light.
Bathroom

Downstairs: Dulux paint to walls and ceiling, Euroluce mini buttons. Upstairs: vinyl print to mirror, existing fittings retained.
Other

Limoges dinner service plates. Mirrors with LED behind.
Credits
Design practice

Pascale Gomes-McNabb
Melbourne, Vic, Australia
Project Team

Pascale Gomes-McNabb, Dinah Lim Fat
Consultants

Builder Northern Projects
Landscaping Nicholas Hosking Landscape Architecture
Lighting Siobhan McNabb (Euroluce)
Project manager Peter Jensen

Site Details

Location 10 Oxford Street, Woollahra, Sydney, NSW, Australia

Project Details

Status Built
Design, documentation 2 months
Construction 3 months
Category Interiors
Type Bars and cafes, Refurbishment, Restaurants

Client

Client name Claude's
Website claudes.com.au

Source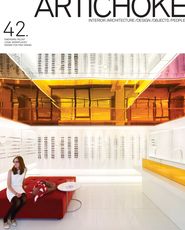 Issue
Artichoke, March 2013
Related topics