This is not a clever meld of old and new, or a polite period restoration; it is metamorphosis, pure and simple. An artist, her husband and their daughters had lived here in a single-storey 1930s bungalow for seventeen years before building what we see today.
Their steep triangular site tucks into a bend in the road down to Sydney's Balmoral Beach. From outside its white cubic form is starkly modern, but the original building is still inside, though radically re-engineered. "The old single-storey house was lovely but small," says one of the clients. "It was getting too cramped and we needed more room and privacy for the girls as they got older."
Having seen a house they liked in a magazine, they contacted husband-and-wife architects Collins and Turner, who were working in London at the time. "Both clients have an interest in design and wanted us to do something architecturally exciting for them," says Huw Turner. "We did the initial concepts by proxy before returning to Sydney and as we spent more time on the site, our ideas about the project changed. One initial concept was a complete rebuild, but that was going to be budget-prohibitive. The old house was already in the right place, hemmed in at the highest point to the rear of the site, so it was already making the most of the views. It made sense to retain as much as possible, use the existing foundations and build around it."
The architects' design retained 70 percent of the existing walls and footings, achieving a more sustainable result at a considerable cost saving, allowing them to add 30 percent to the ground floor and a whole new level above. With the old building used as a foundation, the new building took its exterior form from a number of competing agendas. A covenant from the property behind imposed a height restriction and a flat roof. The clients had wanted a predominantly glass facade to the north-east elevation to fully exploit views from the new first floor; however, the local council prohibits large expanses of horizontal glazing. It was this constraint that gave rise to the compartmentalized facade.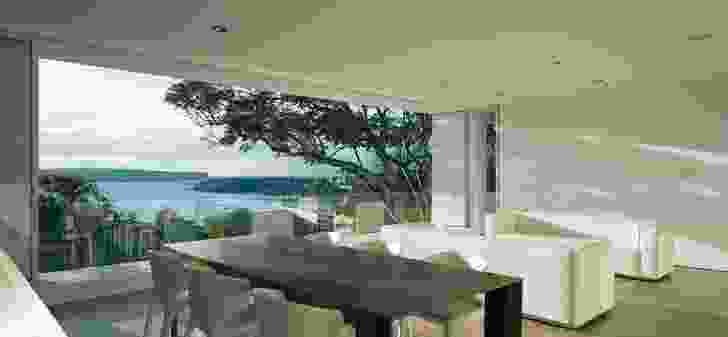 "Our idea was to break the facade down into a series of picture frames – containers within which different things happen – and make the glazing as frameless as possible within each," says Huw. "The composition is an ad hoc assembly of cowls extending out beyond the windows. Each frame is a different width and height, though consistent in depth, and the scale of them defines the functions of the rooms inside. The cowls also provide blinkered screening to the sides for privacy and wind protection and shade from the sun."
These "blinkers" also give each room its distinct relationship to the view, bringing different foreground elements into focus. Downstairs at entry level, the bathroom and the three girls' rooms look across a lawn and neighbourhood buildings out to the water, while the added television room looks over the lap pool above the garage, framed by stone steps and a bank of native grasses. Service areas of laundry and storage are built into joinery under the stairs to the rear.
Upstairs, the open living and dining area is held within the largest of the frames. Inset with floor-to-ceiling sliding glass doors, it offers a panoramic sweep of Middle Harbour to the Heads. There's no balcony as such, but a glass balustrade beyond the sliding doors affords an indoor/outdoor feel. The smaller, square frame around the open stainless steel kitchen has a view of a lush garden along the east boundary, while its adjoining outdoor terrace frames a smaller view again. At the opposite end on this level, the master suite looks to the harbour through the trimmed boughs of a giant jacaranda.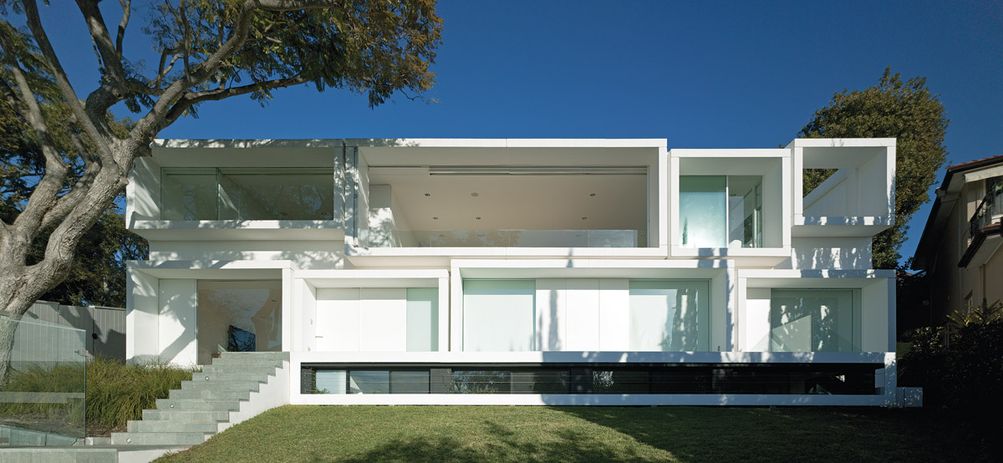 In contrast to the facade's complexity, interior lines are simple and the palette of finishes neutral: white walls, limed oak floorboards, stainless steel for the kitchen, limestone, steel and glass for the bathrooms. Design "moments," discreetly crafted for the family's enjoyment, include twin shower cubicles in the downstairs bathroom, a custom-made Japanese-style bath in the master ensuite and a glass portal cut into the side of the swimming pool. These moments aside, the rooms are sparsely furnished, and with all paraphernalia concealed in purpose-designed joinery, it feels eerily uncluttered. Apart from a replica Rietveld chair (c. 1918) in the master suite, made by one of the clients as a student, there's not a splash of colour or work of art anywhere. All eyes focus on the view.
"We lived in the old house surrounded by so much stuff for so long; this is just so different – which is exactly what we wanted." For now at least it seems the client, a painter of expressive portraits, is content with her bare walls and her brilliant views from this serene spot. "Friends have commented on the lack of art, but I find it quite soothing. With the house quite minimal, you really notice changes in the light and weather, so the view is like a living work of art."
Products and materials
Roofing

Timber LVL and steel structure; plywood roof deck; Sarnafil Decor roof system, 'Zinc Grey', installed by PGM Group.
External walls

Prefabricated rendered panels by Unitex; rendered, with Keim Royalan mineral paint finish.
Internal walls

Existing masonry walls with new render; gypsum boarding with mineral paint finish.
Windows

Low emissivity single glazing; Macquarie Suite system by Svendour.
Doors

Modified Macquarie Suite with solid cores and Alucobond cladding by Svendour; Halliday and Baillie door hardware.
Flooring

Laminated oak by SE Timbers with Osmo hardwax oil finish; Isernia limestone, sandblasted by Artedomus.
Lighting

Erco lightcast, starpoint and floor washlight products, and LED orientation luminaires and Visor wall lights; Osram LED ribbon in custom light covers; Euroluce Antares in-ground lights.
Kitchen

Electrolux integrated fridge and barbecue; Asko integrated dishwasher; Miele oven and cooktop; Rogerseller mixer; Melamine and MDF concealed cupboards; Monolithic Grade 316 stainless steel island bench, custom-designed by Collins and Turner.
Bathroom

Duravit Starck 3 pans and Vero basin; Geberit cistern; custom-made bath in Acylic and Isernia limestone; Rogerseller Zero and Nostromo tapware; D-Line towel rails; Dornbracht rain shower; PPG Starphire panels with solid white frit.
External elements

Peperino granite paving, Isernia limestone.
Other

Custom-designed bed and AV cabinet by Collins and Turner.
Credits
Architect

Collins and Turner
Sydney, NSW, Australia
Project Team

Penelope Collins, Huw Turner, Amanda Byrne, Melanie Coutts, Sara Gardhouse, Maria Speyer
Consultants

Builder A and A Building Services
Engineer James Taylor and Associates
Hydraulics Whipps Wood Consulting
Interiors Collins and Turner
Landscaping Kristen Martin
Lighting Erco

Site Details

Location Balmoral Beach, Sydney, NSW, Australia
Site type Suburban
Site area 596 m2
Building area 298 m2

Project Details

Status Built
Design, documentation 24 months
Construction 15 months
Category Residential
Type New houses

Source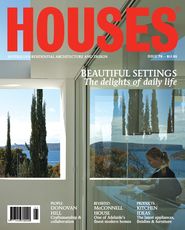 Issue
Houses, February 2011
Related topics