If you are still reading our daily conference Risk Report, you most likely:
a) have a thirst for blood.
b) didn't read our day one report.
c) need a bit more material to pad out your lawsuit.
Shaking off rust from the previous night's savage "Cage Fight" at the offices of local architects Kennedy Nolan, we start our day by filing our first Risk Report. Editor, Mat Ward, ages approximately seven years in the process of posting online.
Amanda Levete
The day's formal proceedings begin with the announcement of next year's conference directorial team: Ben Hewett, Sam Spurr and Cameron Bruhn. Taking place in Radelaide, the conference will be called "How Soon is Now?" Amanda Levete, who appears in a pre-recorded video immediately afterwards, knows the answer to that question: "Sometimes you need to prove you're not wrong, you're just early!" Covered in skins and scales, streamlined or shrink-wrapped, Levete's work is impressive but her breathless narrative eschews mention of clients, engineers, consultants and collaborators.
Risk factor: A dip in the Yarra
Jeremy Till
Strutting the stage in tan brogues and drawing uproarious laughter from the crowd, the dynamic Mr Till provides the contextualisation of risk-taking behaviour that day one desperately needed. Quoting Manfredo Tafuri, Till describes architects as "gymnasts in the prison yard," striking poses of risky abandon within the steel cage of capitalism. Risk is a by-product of modernity, he claims, a mechanism for producing scarcity and hence value, while simultaneously restricting the architect's role to a linear and predetermined process. He elicits gasps with a London estate agent's image of new luxury apartment buildings, their towers alone in the clouds. According to Till, sharing and interconnection offer the only way to avoid becoming Tafuri's gymnasts. The knitted-together European power networks shown by Gianotten in his talk were an effective example of this alternative. Elevating the agenda above the day-to-day fray of procurement and delivery, Till urges his audience to redesign practice itself. "Reality is not just something that we resign ourselves to," he concludes.
Risk factor: Piranha jacuzzi
Panel Discussion: Culture
For a discussion to have urgency, in a conference devoted to risk, we need to get a sense of what is at stake. Panellists in the "culture" session circle around issues of communication, meaning, professional attributes and political agency, never landing on points of consensus or productive discord. The pugnacious Ian McDougall claims that the absence of a publicly recognised architectural critic has not tempered Melbourne's thriving culture, whereas Sydney, with its own dedicated critic, is a "monoculture." This broadside is delivered moments after he takes affront at Deborah Saunt's accusation of parochialism.
Risk factor: Midsummer ride on the Melbourne Eye
Panel Discussion: Pedagogy
The intent of this session is to discuss how education might evolve in response to the hazards of practice. But rather than identifying practical answers, the panel seems mired by idealism. Donald Bates yearns for the good old days of the Architecture Association, when drawings were drafted, bow ties were hand-tied, and Libeskinds and Tschumis still roamed the plains. At this point, I stop taking notes.
Risk factor: Conferencitus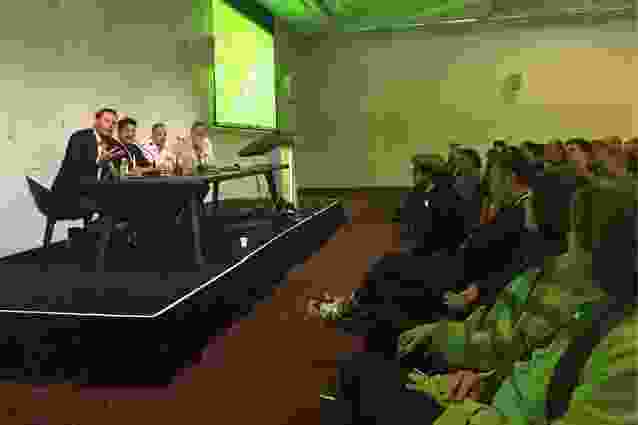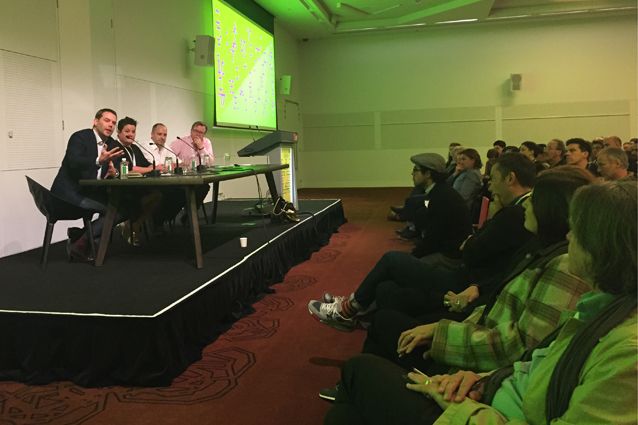 Dialogue session 5: Juliet Moore, Charles Wright, David Gianotten
"That's me staining the timber in an enclosed environment with no breathing apparatus," explains the mischievous Juliet Moore. Preferring opportunity to risk, Moore is prepared to take on projects with minimal funding or support in pursuit of fun. By contrast, Charles Wright attempts to take his clients on a journey as far upriver as possible, despite the nagging, self-addressed question, "what if your client doesn't like living in this experiment?" Faced with these disparate practices and concerns, Gianotten urges a consolidated approach among small practices in order to gain greater cultural traction. The audience is having none of it, heckling the helpful if paternalistic advice of a European architect.
Risk factor: Crocodile tourist boat
Dialogue session 6: Thomas Bailey, Hannah Tribe, Kasper Jensen
In preparation for her presentation, Hannah Tribe sought answers from her own clients. Where did they perceive the risks in the project, she asked them? While money was a constant challenge, none had seen risk in engaging an architect, nor in the design process itself. After showing us a series of beautiful, considered houses, Tribe concludes her talk by revealing that her favourite clients have decided they will never hire an architect again. The house's bespoke qualities had hindered attempts at resale. Though it fulfilled every aspect of the client's brief, the house had "failed as a commodity." Fellow session participants Thomas Bailey and Kasper Jensen, along with those in attendance, were left reeling.
Risk factor: Disintegrating rope bridge
Cynthia Davidson
Cynthia Davidson quietens the crowd immediately with a dramatic opening: "I have to make a confession here. I was once a budding architect." After pointing out that she is wearing the same colour shoes as Till, Davidson's talk follows perfectly on his lead. Where Till established that architects used the appearance of risky behaviour to exhibit elitism, Davidson shows how image dependency has progressively diluted the profession's vocabulary. In contrast to the heroic self-focus of previous speakers, uber-editor Davidson continues to champion a collective architectural culture. She offers a timely reminder that "we are not all individually at risk, we are globally at risk."
Risk factor: Attempting atmospheric re-entry
Kasper Jensen
At the conference's outset, Andrew Mackenzie expressed his wish to avoid the YouTube or TED Talk style of presentation. To Mackenzie and his fellow creative directors' credit, this wish was generally heeded. Enter Kasper Jensen, hot-shot director of Danish think tank GXN, briefcase lecture in hand. Jensen presents a rapid-fire preview of built work and experimental research into material and bio-technological construction systems. Any one of these projects might prove fascinating were he to pause for breath and elaborate further. After the thoughtful, honest and direct talks by Till and Davidson, and a series of spirited panel discussions, Jensen's frothy talk provides an anti-climatic summation. We spill out into the Melbourne night in search of greater sustenance.
Risk factor: Aperol spritz on an empty stomach
Daily Risk Matrix (wherein we tally mentions of the word "risk" by each of the speakers):
Amanda Levete: 32; Jeremy Till: 77; Donald Bates: 6; Vivian Mitsogianni: 7; Anthony Burke: 8; Juliet Moore: 7; Charles Wright: 21; Thomas Bailey: 14; Hannah Tribe: 40; Cynthia Davidson: 49; Kasper Jensen: 6; Not tallied: Ian McDougall, Ben Hewett, Jeremy McLeod.
Words that sound like risk:
Brisk: Melbourne is cold at night.
Frisk: Stop and frisk whoever stole our free Peter Stutchbury books.
Disc: Outmoded storage format with shiny underside.
Asterisk: Should be placed next to day one's admittedly quite harsh report, as on reflection the entire conference has proven engaging, thought-provoking, well-considered and one of the strongest in recent memory.
Read Grace Mortlock and David Neustein's report from day one of the conference.
Related topics