As designers we work closely with hoteliers to understand their customer profile. Hoteliers rigorously monitor their markets and look to designers to refine and model a product that is responsive to this data. With refurbishments typically taking place every eight to ten years for the soft elements, and every fifteen to twenty years for public spaces and bathrooms, the designer must get it right. Solutions need to be honed to a customer segment, be aesthetically timeless and durable, and fulfill the market's desire for unique, memorable design.
Today's world-class hotel customer represents the full spectrum – business, recreational, adventure, independent, family, romance, celebrity and the "grudge purchase." Tomorrow's customer is likely to be from the same crowd, but savvy operators are preparing to "capitalize" on the fast-growing Chinese outbound market. Currently in its infancy, Chinese demand for international travel is tipped to grow from 10 million to in excess of 100 million between 2000 and 2020.1 There are ten key drivers that will shape hospitality and expand the designer's role.
1. Brand
Proprietors of both independent and chain hotels are increasingly seeking to create their point of difference through branding and the ongoing refinement of branding. Service is fundamental, but the aesthetics also create those memorable experiences that the guest takes away and which make them want to return. The magic stems from that.
There's been a "counter movement" away from the homogenous design adopted by some corporate and brand hotels in the 1980s. The premise of providing the traveller the reassurance and comfort of a known experience associated with a particular brand regardless of location preceded the realization that "impersonality, predictability and boredom" can create a "negative guest experience."2 As it's now widely accepted that brand is sufficient reassurance for the traveller, on the proviso that qualities and standards are consistent, international chains are focusing on clear articulation of sub brands and hierarchies.
Customers in today's global village have become more desirous of authentic, bespoke experiences. Some operators have responded by creating boutique hotel brands within sub brands. This has been particularly evident among hoteliers seeking to appeal to the specific needs of the Chinese traveller market.3
Understanding brand and positioning will become increasingly critical. Expect to see designers more involved at the front end of design and analysis with their clients.
2. Place
Greater emphasis on the special qualities of place in hotel design emerged in the 2000s. It's a trend set to continue and grow if the jury citation for the 2012 Pritzker Architecture Prize Laureate, Wang Shu, is heeded. Wang Shu's body of work, which has featured recycled roof tiles and bricks, was described as "responsible architecture arising from a sense of specific culture and place."4 Designers working remotely will spend more time trying to genuinely understand the local culture and the quintessence of the local experience. It's celebrating and augmenting the unique qualities of each location in the hotel design that will deliver a genuine local experience for patrons. Demand for "localization"5 is recognized by Hilton Worldwide, which on its website promises "one-of-a-kind experiences with sophisticated, locally inspired surroundings." So, too, for Bulgari, which promises that each of its properties features "strong reference to the local culture."
3. Point of difference
How often does a designer field a request for an interior with "wow" or that's iconic? But not everything needs to scream and shout. There are alternative ways to provide guests with a unique, memorable experience and emotional connection. Examples include artworks such as the seven sculptural timber balls made out of chestnut by Korean artist Lee Jae-Hyo at Crown Metropol in Melbourne, and the growth of spa amenities within hotels designed to appeal to the senses beyond sight. Exploration of these concepts in other aspects of hotel amenity is likely to follow.
The hotel restaurant can no longer afford to be a soulless provider of three meals a day and a buffet. Hoteliers will work more with designers to reap extra value from their investment. Signature restaurants can provide a legitimate platform for appropriate insertion of "wow" and a genuine and attractive experience to both guests and external patrons. Hotel food and beverage in Australia has traditionally been more about convenience than the food on offer. A name chef, an open kitchen and a street-front entry are ways of creating the perception of an independent restaurant.
4. Home
In demand will be guest accommodation that offers non-alienating experiences, and rooms that are easy to navigate, easy to live in, have a sense of familiarity and which allow shoulders to drop. The trend will lean towards reassuring and comforting spaces as opposed to a hi-tech architectural experience. Less ostentatious, relaxed refinement and understated opulence is poised to become the new luxury; as Hilton Worldwide asserts, "The greatest luxury is the luxury of being yourself."
A return to the idea of home is a sentiment also echoed in Armani Hotel Dubai's offer on its website of "a home-away-from-home experience." Part of the aspiration that a quality hotel provides is an experience that's better than home for most people, but which still has a genuine domestic feel. The designer's role is to add "an emotional dimension to the guest experience"6; to create those subliminal elements that trigger an emotional connection and engender loyalty to brand.
5. Luxury
The trend of hotel alignment with out-of-sector leading luxury brands is on the rise after surfacing via Hotel Missoni in Edinburgh (2009) and Kuwait (2010) and the Armani Hotels in Dubai (2010) and Milan (2011).7 The collaboration between the international Italian fashion label Missoni and The Rezidor Hotel Group heralds, as the Missoni website states, "a new kind of luxury hotel for the 21st Century," with further openings planned in other "fashionable locations around the globe." As for why customers are attracted to alignment with brands in this market, Tom Ford, ex-creative director of Gucci, has reportedly said, "It's about personal style, choosing a concept that fits into one's sense of self and making a statement."8
Car brands are now leveraging the popularity of luxury brands, with Tonino Lamborghini planning to open forty five-star hotels in Asian markets. It's tipped that luxury brands from various industries will follow suit. Luxury retail is another growth area linked to high-end hotels. According to the World Travel Market Global Trends Report 2012, travellers from Brazil, Russia, India and China are flocking to European cities to purchase luxury goods. Shopping was also cited as a key driver among travellers to the Middle East, where shopping hotels have emerged.9 Designers may experience extra demand for well-sited luxury retail tenancies to enrich lobby interiors.
6. Tightening economics
Designers have experienced an increased requirement to produce more bang for buck for clients since the global financial crisis took hold during 2008. Ensuring that dollars are allocated in the most impactful way and that they are judiciously used will continue to be important in the future.
7. Global sourcing
Globalization, coupled with the requirement to do more with less, has led designers to cast the net internationally to source product and give more consideration to best pricing. Instead of lamenting the passing of the "good old days," creative designers of hospitality projects will entertain greater possibilities with the benefit of increased diversity and a shift away from generic product.
8. Environmental footprint
Designers will have a greater responsibility to specify sustainable materials and design options for clients. For hotel operators, consideration of environmental impact is often influenced by bottomline and operating costs. And just as it has become the norm for most guest rooms to display signage that circumvents unnecessary washing of towels to minimize water use, it's likely that increased natural ventilation options and guest control of lighting, temperature and operable windows will become mainstays of future hotel design to slash energy use. The preference of guests for ethical and sustainable travel may create a shift towards "luxury without the associated guilt."10
9. Technology
The practice of charging for daily internet usage is now akin to billing extra to have a shower. Not merely expected, internet must also function seamlessly.11 We don't know exactly what future technological changes will be; however, smart TVs that integrate TV, internet and social media are tipped to be on the verge of take-off.12 We do know that guest accommodation design will need to be ultra flexible to accommodate technology's inevitable changes and increasing presence.
Other spaces are likely to function differently. The virtual self-serve check in and check out demands a new design response to lobby space design. With personal interaction reduced, attention to the design and quality of guest accommodation is potentially a hotel's primary guest experience and will certainly command more emphasis. The guest room as home office will matter all the more.
10. The virtual hotel
Due to the trend towards making travel plans online, today the first experience of a hotel for a growing number of people is virtual, and the moment at which they decide to book or not. Just as interior designers are today involved in creating marketing suites for commercial office and residential buildings, we are now hands-on in crafting the digital experience as part and parcel of the hotel brand and working collaboratively with other disciplines in hotel marketing.
Forming a closer alignment between the consumer's virtual and physical experience will produce a major paradigm shift for all players. We may be increasingly moulding the hotel experience from what we know is going to be the hero shot and carry that vision through to the end of the project. At the end of the day the hero shot can be the tool that sells the hotel experience
1. Chinese International Travel Monitor 2012, Hotels.com, press.hotels.com/en-gb/files/2012/07/Hotels.com-Chinese-International-Traveller-MapCITM.pdf (accessed 11 November 2012).
<2. Benny Paul Joseph and Jason Wu, "The effects of the new trend in hotel design," Hotel and Tourism Management Institute Switzerland (HTMi ) website, 2010, ihrcs.ch/?p=338 (accessed 17 November 2012).
3. Chinese International Travel Monitor 2012, op. cit.
4. The Pritzker Architecture Prize website, pritzkerprize.com/laureates/2012 (accessed 13 November 2012).
5. Joseph and Wu, op. cit.
6. Joseph and Wu, op. cit.
7. ibid.
8. KWE Group, "What's Next: Luxury Travel & Lifestyle Trends," KWE Group website, February 2007, kwegroup.com/images/feb-007-luxury-trend-newsletter-final.pdf (accessed 17 November 2012).
9. World Travel Market and Euromonitor International, WTM Global Trends Report 2012, HotelNewsNow.com, 2012, hotelnewsnow.com/media/File/PDFs/Reports/20121109_WTM_GlobalTrendsReport.pdf/ (accessed 10 November 2012).10. World Travel Market, World Travel Market 2012 Industry Report, World Travel Market website, 2012, wtmlondon.com/files/6335_wtm_industry_report_v10_lo.pdf (accessed 10 November 2012).
11. Joseph and Wu, op. cit.
12. World Travel Market and Euromonitor International, op. cit.
Source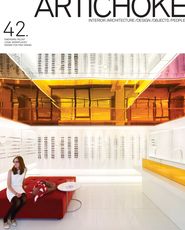 Issue
Artichoke, March 2013
Related topics