First Gold Coast Cultural Precinct project opens
The first project of the long-term development of the 17-hectare Gold Coast Cultural Precinct, which comprises a double-sided amphitheatre covered with a landscaped garden, has been unveiled by the Gold Coast City Council.
Masterplanned by ARM Architecture and Topotek1, the 17-hectare Gold Coast Cultural Precinct, which also involve the creation of new parklands, an outdoor theatre, a water play area and an art gallery, as part of the outdoor "Artscape" of the masterplan.
At the opening of the amphitheatre, Gold Coast mayor Tom Tate announced the precinct will now be known as the "Home of the Arts" (HOTA).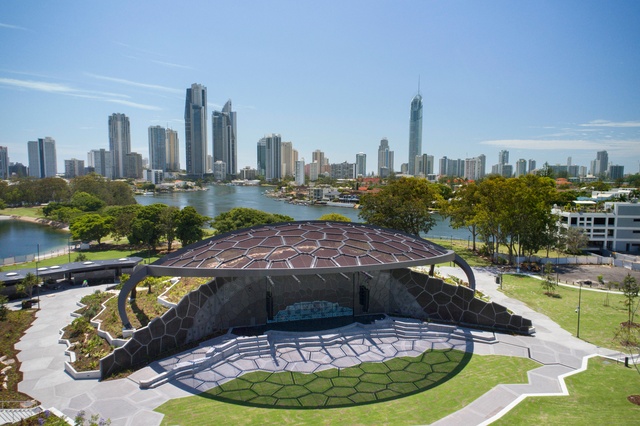 Capable of hosting 5,000 people, the amphitheatre stage sits under a canopy made from a tensile fabric arranged in a Voronoi pattern. A more conventional "black box" theatre can be formed by closing the stage door.
ARM Architecture, with German landscape architecture firm Topotek1, won a competition for the design of a masterplan for the proposed Gold Coast Cultural Precinct on the bank of the Nerang River in 2013.
While the contents of the plan have been redrawn, the current masterplan retains the original's heavy use of Voronoi (or web-like) patterns in both its architectural and landscape designs as a way linking new structures with ones already present on the site, which will be wrapped in a "gelato-coloured" Voronoi superstructure.
The architects said the "dynamic, organic cellular structure of the Voronoi," would "reflect the furious, youthful energy of Australia's sixth biggest city."
Voronoi patterns have appeared on previous ARM projects, including the facade of the Melbourne Recital Centre and the internal architecture of the Wintergarden interstitial space at the base of ARM's Swanston Square apartment building in central Melbourne, which bears the face historic leader William Barak.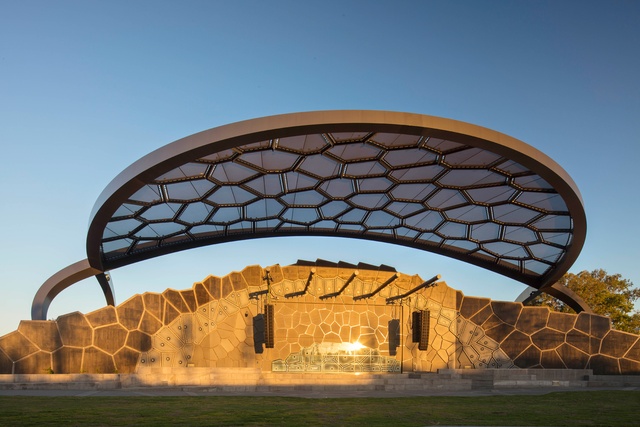 The second part of stage one will involve the construction of an art gallery that will host the City of Gold Coast's art collection, due for completion in late 2020 and a shared pedestrian and cycling bridge to connect the precinct to Chevron Island which will be completed by 2019. Future stages will be delivered after 2018.
The completed "Artscape" will include a number of publicly accessible facilities such as basketball courts, a skate park, table tennis, water play features, a treetop walk, a hanging playground, public art installations and a landscaped yoga and meditation zone.
For more on the Gold Coast and its architecture, see the January/February 2018 issue of Architecture Australia.