There's something to be said for designing with a light touch. Rather than focusing on dramatic architectural "moments," the houses in this issue take cues from found conditions – the character of a period home, the pattern of the streetscape or the beauty of the natural terrain.
At Balmain Rock by Benn and Penna, a historic sandstone cottage is enhanced by a contemporary addition that draws on the qualities of the original. With a similar sleight of hand, Nielsen Jenkins has added a seemingly simple outdoor room to K and T's Place in a way that protects the home from the bustling wider suburb.
This sympathetic approach extends to how homes are lived in. At North Melbourne House by NMBW Architecture Studio, the design is deliberately open-ended. A flexible plan and finishes mean the owners can tailor their home to suit them.
These houses give a snapshot of how Australian architects and designers are resisting the urge to start from scratch and instead are creating vibrant, layered streetscapes and spaces that can be personalized, organically, over time.

Gemma Savio, editor

Follow Houses on Twitter, Facebook and Instagram.
Source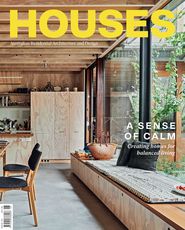 Issue
Houses, December 2019