There are several ways for a visitor to enter Hotel Hotel, the latest addition to Canberra's remarkably skimpy selection of boutique accommodation offerings. Those looking for a dramatic entry, though, would be best to take the stairs. Here, more than 2150 pieces of recycled timber whoosh up the walls, forming a carapace that somehow manages to be both rustic and baroque, high-tech and low-tech, simple and mind-achingly complex. It makes plodding up the stairs feel a little bit like a jump to hyperspace in the Millennium Falcon – just swap speed-distended strips of starlight for frozen battens of timber offcuts.
The staircase, designed by March Studio, is just one piece of many in the Hotel Hotel puzzle. More architects, designers and creative consultants have had their hand in this knotty concern than it is possible to list, a pluralism that extends to the project's agenda, which touches on everything from sustainability to urbanism, arts patronage and community development to architecture and design. The force that threads all of this together, though, is a commercial one, which produces contradictions as well as complexity.
Hotel Hotel sits within Nishi, a mixed-use building that is the latest stage in the decade-long realization of the New Acton precinct by Canberra-based developer Molonglo Group. The developer has positioned the precinct as a counter to Canberra's nebulousness, a dense neighbourhood of the kind of localized urban energy its host city otherwise seems to lack. Hotel Hotel in some ways is a reflection of the broader concerns of New Acton – the principle of diversity, for one, which, according to Molonglo Group director Nectar Efkarpidis, in part is what has led to the project's small army of creative consultants.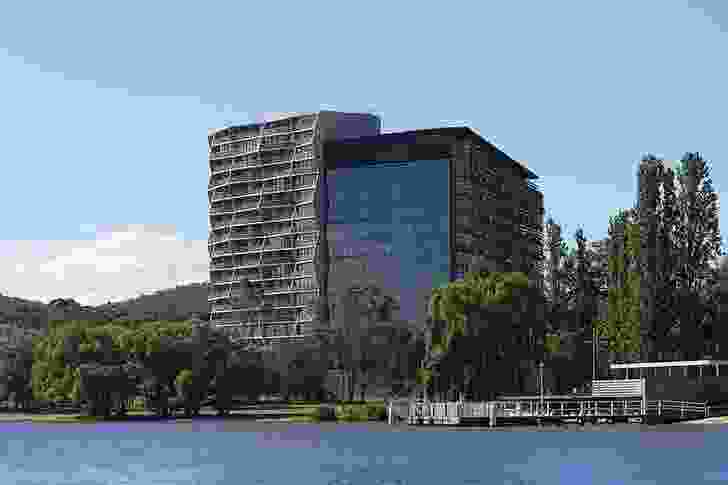 "Often it's easier to have linear processes – one designer from start to finish. I think the value of having multiple hands with disjunction and meanderings is it allows you to explore, it allows you to really challenge the status quo," says Efkarpidis. "It's like any intellectual endeavour, the capacity for dialogue and multiple voices, no matter how messy it makes it, has to enrich the outcome."
After launching up the stairs, the visitor finds themselves in the vaguely subterranean hotel lobby proper, surrounded by furniture and objects specially developed for it by Broached Commissions and designed by the likes of Lucy McRae, Adam Goodrum and Charles Wilson. These items share space with mid-century furniture pieces selected by Hotel Hotel's room designer Don Cameron. Fender Katsalidis Architects and Japan's Suppose Design Office designed the Nishi building proper, and March Studio is responsible for much of the lobby. That makes for a lot of "chefs in the kitchen," with more unmentioned, but the various strands of the design do somehow emulsify into a single, coherent experience.
Molonglo Group worked closely with Cameron to develop a sensibility for the hotel as a whole. They describe this as inspired by the romantic ideal of the Australian shack, which relates in turn to ideas of authenticity and sustainability. The idea that the shack, a housing type born of grinding rural poverty, could inform a purpose-built, boutique hotel for Canberra's fly-in fly-out professional class might be a little too rich for some. Shack chic rhetoric aside, though, there is a lot to be admired of a hotel interior that features furnishings and materials of enduring quality, many of which are "vintage" at that. Whether or not they will be able to weather the vagaries of fashion and demand for the forever-new remains to be seen, but for now the sentiment is commendable, even brave.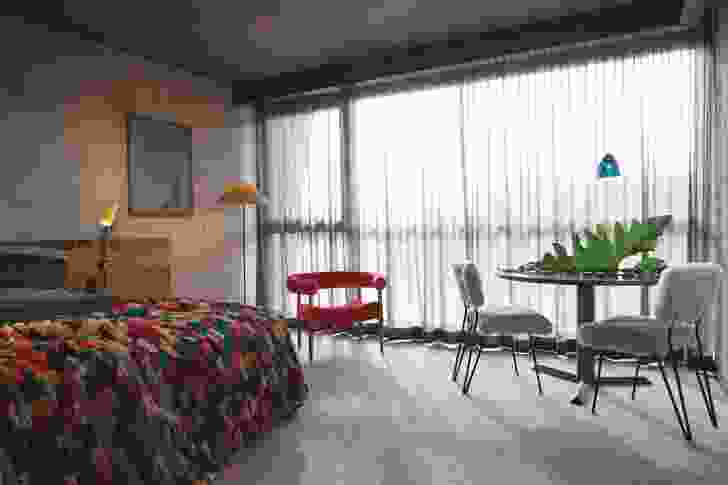 "We didn't want you to just go to a bland, cookie cutter, beige and pastel room – we wanted you to feel like in your room it was a home," says Efkarpidis. "It was inviting, tactile and it wasn't about slick finishes, it was about materials that were authentic, that were real and that over a period of time will continue to get better, will age. As they age, like an old leather jacket or pair of shoes, you love them more and more."
In the lobby, the emphasis is on expressed materials, with lightly finished timber and raw concrete beams forming walls and surfaces. The rooms, meanwhile, with their textured surfaces, autumnal colours and carefully tempered lighting, are just theatrical enough to give the guest a sense of being transported somewhere out of the ordinary.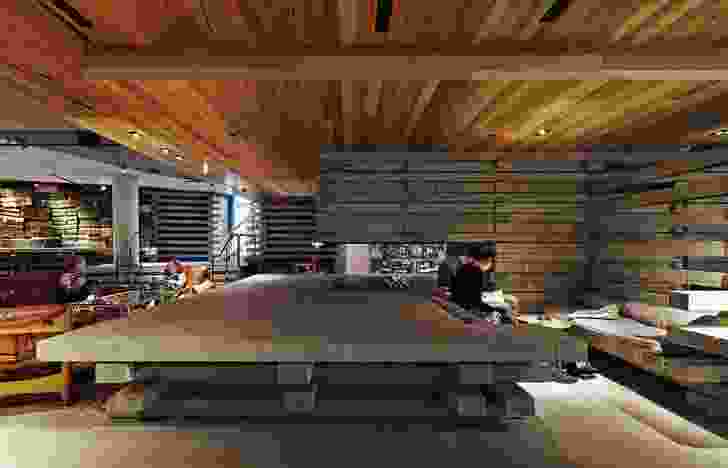 The project's real genius lies in its understanding of the big picture, though, rather than its finely grained decoration. Molonglo Group has always seen Hotel Hotel as part of an ecology. Sitting above the hotel, there are 220 private apartments, while the "lobby" also plays home to a suitably urbane cafe-bar and a number of retail tenancies (the lobby is really a kind of semi-public arcade). The presence of the hotel helps support this amenity – which the more permanent residents of the comparatively inexpensive apartments upstairs benefit from. Stroll back down March Studio's staircase and you'll find a cinema and a 6-Star Greenstar office building, which takes up half of Nishi's footprint but also provides recycled water and other services to its neighbours. Step outside and you'll be surrounded by the busy streetscapes, restaurants and businesses of a burgeoning new neighbourhood that brings much needed life to Canberra's inner city.
"Unfortunately a lot of our models tend to be ones of 'here's my square,' whether that's a block of land or domain of work," says Efkarpidis. "If you think about the world that way – 'Everything outside of that box is someone else's and I don't [care]' – it really undermines the capacity to make great places."
The work of many skilled and accomplished hands, Hotel Hotel is filled with tiny pleasures and clever design. Thanks to Molonglo Group's understanding of the complex systems that shape successful cities, though, it quite remarkably transcends the sum of its parts.
Products and materials
Walls and ceilings

Hotel rooms' internal walls are in three designs: off-form concrete with ribbed and hammered finish; bespoke clay render with hemp, aggregate and pigment (developed by Don Cameron and Rockcote); and various natural fibre walls made from grass, cork and hessian and sourced through South Pacific Fabrics and The Textile Company. Lobby and entry features concrete lintels from Ultrafloor, blackbutt timber battens, Cube acoustic insulation panels in 'Onyx' from Autex, Ceminseal BareStone fibre cement sheet from Cemintel, custom perforated blackened steel panels.
Windows

Hotel rooms feature Blockout roller blinds, with automation by Chernway. Aesop curtain fabric from Warwick Fabrics. Lobby and entry features VFloat toughened glazing from Viridian, custom-made steel frames with Dulux Ferrodor finish, and SmartTech Tilt windows. Timber hotel room windows by Paarhammer.
Doors

Hotel room doors painted in Resene 'Double Gravel.' Lobby and entry feature custom blackened steel, with penetrol finish and VFloat glass inserts from Viridian; automatic frameless glazed sliding door from Dorma.
Flooring

Hotel rooms feature custom-weave Berber carpet. Lobby and entry features blackbutt floorboards, burnished concrete, concrete lintels from Ultrafloor and velour carpet in 'Bondage' from Supertuft.
Lighting

Hotel rooms feature custom-made bedside, desk, floor, bathroom mirror, corridor louvred and pendant lighting designed by Don Cameron and manufactured by Nocturnal Lighting and Berczi Copper Company. Glass pendant light in hotel rooms designed and hand blown by Amos Enders-Moje.
Furniture

Bespoke cabinetry in hotel rooms designed by Don Cameron and fabricated by Gecko Joinery using ancient Romanian oak salvaged from Loire Valley, France and imported by The Salvage Company. Bed heads, consoles, banquettes, three-way side table, dining table and wardrobes in hotel rooms designed by Don Cameron. Editioned hotel room furniture designed by Don Cameron, fabricated by Berczi Copper Company. Upholstery from Atelier Design Furniture, with fabrics by South Pacific Fabrics and Edra and leather by Instyle.Side tables, coffee tables and hairy desk chairs in hotel rooms designed by Don Cameron with Ken Neale. Vintage furniture and applied arts in hotel rooms and on ground floor sourced and curated by Don Cameron. Side table, coffee table, hoop stool and rag rug stool on ground floor designed by Don Cameron with Ken Neale. Patinated brass communal tables designed by Don Cameron and manufactured by Berczi Copper Company. Feasting table, chairs and stools in hotel restaurant and bar, concrete benches in public spaces around hotel, and wooden bowls in all hotel rooms, all by Broached Commissions with Adam Goodrum. Couches in hotel foyer by Broached Commissions with Charles Wilson. Lenticular mirror (reception desk feature wall) by Broached Commissions with Lucy McRae.
Bathroom

Hotel rooms feature Astra Walker bathroom mixers; Rogerseller basins; custom-made concrete baths from Boyd Alternatives; quartzite benchtops from SNB Stone; and tiles from Onsite Supply & Design.
Credits
Developer

Molonglo Group
Canberra, ACT, Australia
Consultants

Artists and designers Lucy McCrae, Anna-Wili Highfield, Charles Wilson, Adam Goodrum, Amos Enders-Moje, Al Stark, Lee Grant, Gerard Havekes, Kris Coad.
Base building architect Fender Katsalidis Architects, Suppose Design Office
Base building services and ESD Arup
Bespoke furniture Broached Commissions
Building certifier ACT Metropolitan
Building civil engineer Mott MacDonald
Building structural engineer AWT Consulting Engineers
Graphic design & signage Clear Design & Brand Strategy, Studio Round
Hotel room design Don Cameron and Molonglo Group
Kitchen design RBD Consulting
Landscape architect Oculus Landscape Architecture & Urban Design
Lobby and entry March Studio
Lobby and entry builder CBD Contracting
Lobby and entry engineer Co-Struct
Lobby and entry lighting Point of View
Project management Molonglo Group

Site Details

Location Canberra, ACT, Australia

Project Details

Status Built
Design, documentation 18 months
Construction 18 months
Category Hospitality, Interiors
Type Hotels / accommodation

Source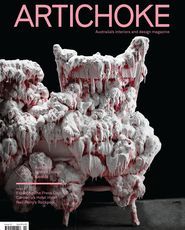 Issue
Artichoke, June 2014
Related topics