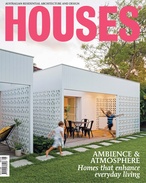 October 2015 (Issue 106)

Introduction to Houses 106.

The husband-and-wife team behind Kieron Gait Architects has a deep understanding of the language of adaptation, creating moments of discovery and daring new forms.

Sally Draper reflects on how one of her first project was an exploration of a home's relationship to discipline and dreams.

A home designed by Graeme Gunn and built in 1967 for John Ridge, one of the founding directors of Merchant Builders.

Whiting Architects creates a Melbourne bayside apartment a layered landscape of textural details and captivating vistas.
BVN makes a memorable statement about sustainability and re-use in a renovated and extended postwar house in Brisbane.